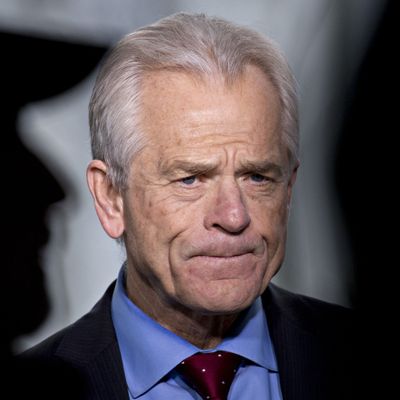 Peter Navarro, director of the National Trade Council.
Photo: Andrew Harrer/Bloomberg via Getty Images
White House trade adviser Peter Navarro won't take part in a Thursday meeting between Trump administration officials and China's top economic envoy because he's "lately behaved erratically and unprofessionally," Bloomberg's Jennifer Jacobs reports. With Navarro excluded, the U.S. will be represented in the meeting by Treasury Secretary Steven Mnuchin and Commerce Secretary Wilbur Ross, among others.
A longtime critic of China, Navarro has beef with Mnuchin that could be behind Thursday's benching, Axios adds. The two officials reportedly had it out earlier this month over Mnuchin's Beijing meeting with Liu He, President Xi Jinping's top economic adviser. Navarro cursed at Mnuchin over his exclusion from the talks, Jonathan Swan reports. The rift "stems from his belief that Mnuchin is steering them down the wrong path, policy-wise, with China," a source added. But Swan also heard that the dust-up between Trump's economic advisers is not why he's missing tomorrow's meeting.
Perhaps Navarro's behavior is just crabbiness about being pushed around so much. Last September, he was "sidelined" by White House Chief of Staff John Kelly, who limited his access to the Oval Office. By March, with rival Gary Cohn out of the way, the hard-line trade hawk appeared ascendant. But despite the reports of his impending promotion to head the National Economic Council, Navarro was passed over in favor of Larry Kudlow.
Or maybe this whole story is a ruse to keep Navarro out of a meeting that China didn't want him in. Last month, the Wall Street Journal reported that Chinese officials had previously made known their feelings on the author of Death by China, reportedly telling U.S. officials, "We'll not engage with Navarro." Tomorrow that won't be an issue.