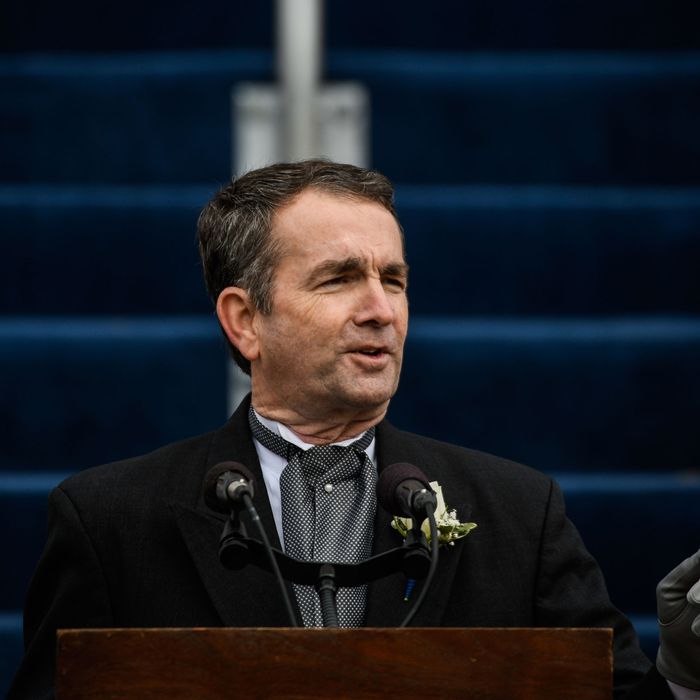 Virginia Governor Ralph Northam is very close to accomplishing one of his major 2017 campaign promises.
Photo: Salwan Georges/The Washington Post/Getty Images
One of the nation's longest and bitterest battles over implementation of the Affordable Care Act looks likely to end very soon as the Virginia Senate approved a budget that included funds to expand Medicaid. Vox has the story:
The Virginia state Senate voted Wednesday to expand Medicaid under the Affordable Care Act, with four Republicans crossing party lines to join all Senate Democrats in backing the move. The House of Delegates, which already passed a version of Medicaid expansion, will need to vote again to make expansion a reality, but the odds now seem overwhelming that Virginia will become the 33rd state to expand Medicaid (Washington, DC, has also expanded).
Democrats who have been battling for Medicaid expansion for years had to make some concessions to secure the handful of GOP votes they needed after their strong performance in the 2017 election. Like an increasing number of states being encouraged to move in this direction by the Trump administration, Virginia's Medicaid expansion will include some work and cost-sharing requirements for beneficiaries. But it's still very good news for up to 400,000 low-income Virginians who could become eligible for the wide array of services Medicaid provides.
The accomplishment is a testament in part to the negotiating skills of Governor Ralph Northam, who campaigned last year on making the expansion happen, and to the earlier efforts of his predecessor, Terry McAuliffe, who fought for the expansion throughout his tenure. Virginia will likely become the first state to officially expand Medicaid during the Trump administration, though Maine could soon join the club if lawsuits force Governor Paul LePage to implement a 2017 ballot initiative approving an expansion. Idaho and Utah are very likely to hold Medicaid expansion ballot initiatives this November, and proponents in Nebraska have until July to certify an initiative of their own.
For a health-care law that Donald Trump has been declaring "dead" or "dying" since 2013, Obamacare seems to have a lot of life in it yet, no thanks to his administration. Obama himself is probably sharing a bit of the good feelings among Democrats in Virginia.