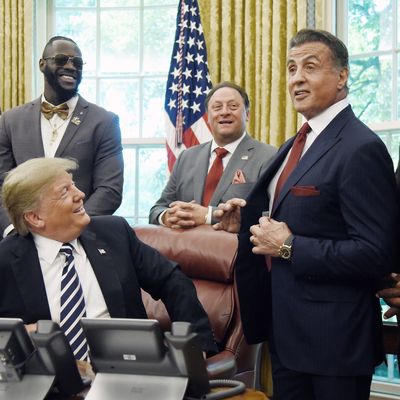 Trump pardoned Jack Johnson after Stallone told him the boxer's story.
Photo: Olivier Douliery/Bloomberg via Getty Images
In a scene that recalled his time surrounded by fading celebrities on Celebrity Apprentice, Donald Trump welcomed Sylvester Stallone and former heavyweight champ Lennox Lewis to the White House Thursday. The boxer and the guy who played a boxer in a movie were there to watch Trump posthumously pardon boxer Jack Johnson.
The first black heavyweight champ, Johnson was convicted in 1913 of violating the Mann Act after he transported his white girlfriend across state lines for "immoral purposes." The Texas native fled the country after his conviction, but later returned to serve a ten-month jail sentence.
Johnson, who died in 1946, was "a truly great fighter [who] had a tough life," Trump said. He was "not treated fairly, and we have corrected that, and I'm very honored to have done it."
Stallone and Lewis are among the many fight fans to take up Johnson's cause in recent years. It's a group that includes documentarian Ken Burns, Senator John McCain, and grill pitchman George Foreman.
A campaign to get Johnson pardoned during the Obama administration, led by McCain and former senator Harry Reid, was unsuccessful, at least in part because of "allegations of domestic violence against women," the Times reports. Stallone brought the issue to Trump's attention in a phone call last month.