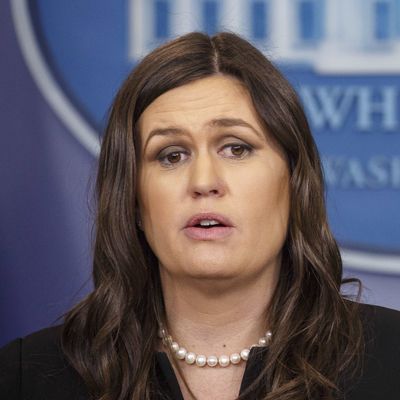 The leak hunter.
Photo: JOSHUA ROBERTS
Axios reported on Saturday some rather delicious details from a meeting in which White House press secretary Sarah Huckabee Sanders reprimanded her staff for continuing to leak to the press, knowing full well that her lament would itself be leaked. Jonathan Swan reports:
At yesterday's meeting of the White House communications team — in the wake of a leak from the prior meeting of a callous remark about John McCain's brain cancer — a visibly upset and furious Press Secretary Sarah Sanders told the group: "I am sure this conversation is going to leak, too. And that's just disgusting," according to a source in the room.
Swan then writes that five — yes, FIVE — sources indeed leaked details of the meeting to Axios. It's unclear how many people total attended the meeting (six, perhaps?), but given this White House's history of rampant, unchecked blabbing to reporters, it's easy to understand Sanders's mood of indignant resignation.
The Trump administration never apologizes for anything, and it dislikes leakers perhaps more than any other group, including immigrants and journalists. So when it was revealed that Sadler downplayed Senator John McCain's opposition to CIA director Haspel on Thursday because "he's dying anyway," it made sense that the White House focused more on the fact that Sadler's line found its way to the New York Times than on the substance of her comment.
Swan reports that his array of sources "told me senior leaders on the press team spent more time focused on the fact that Sadler's now-infamous comment had leaked, than that it was said in the first place" — though Sanders did admit it was wrong.
Sanders refused to comment on the controversy at a press briefing on Friday, and Sadler remains gainfully employed at the White House.
Swan also reports that at least one person openly defended Sadler during Friday's meeting: White House strategic communications director Mercedes Schlapp, who said, "You can put this on the record … I stand with Kelly Sadler."
Schlapp was last seen protesting Michelle Wolf's supposedly offensive White House Correspondents' Dinner routine by leaving the event ten minutes early, to attend an NBC after-party.