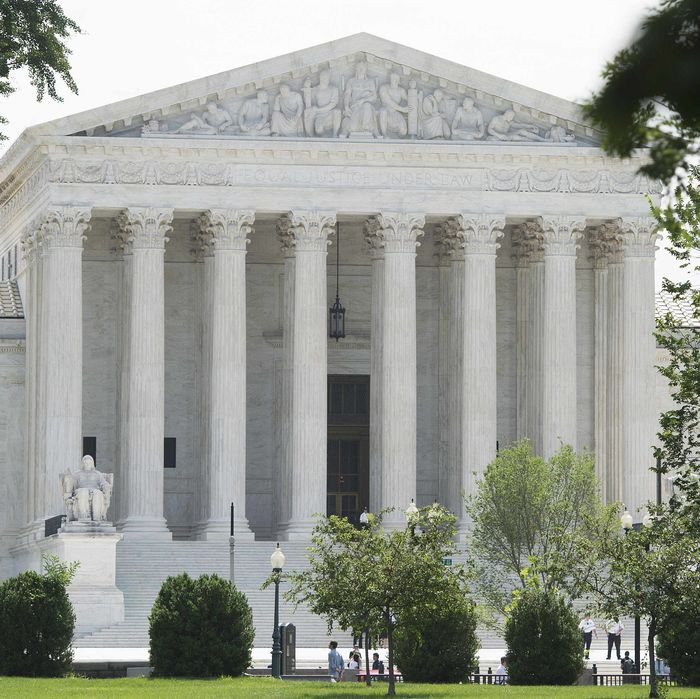 A gambler's paradise.
Photo: Jim Watson/AFP/Getty Images
It was Justice Samuel Alito who informed New Jersey, in a watershed ruling announced today, that the Supreme Court would be allowing his home state to go ahead and regulate sports betting locally — ending a protracted legal fight between the Garden State, the federal government, and professional sports leagues over whether the Constitution bars Congress from telling states that sports gambling is off limits to them. The decision, which effectively tore down those limits, is a major victory for the gambling industry and for states (including New Jersey) that for decades felt constrained by the federal Professional and Amateur Sports Protection Act, which banned most sports gambling. The court struck it down in a 7-to-2 decision.
But before he got into the substance of the court's reasoning, Alito seemed to relish the opportunity to wax nostalgic about the halcyon days when New Jersey was a pioneer among the states in the gambling business and "Atlantic City became the most popular tourist destination in the United States." That was a long time ago — "that favorable situation eventually came to an end," Alito writes somewhat longingly — but rather than battle the federal ban head-on, New Jersey voters approved a constitutional amendment authorizing lawmakers to legalize sports betting. The NCAA and professional sports leagues immediately pounced, and the ensuing legal challenge and later legislative maneuvers morphed into the constitutional challenge that landed before the Supreme Court last year.
Few things seem to bring Democrats and Republicans together as the prospect of more avenues for state residents to gamble away their hard-earned money, and so it's no surprise that — across party lines — both New Jersey governor Phil Murphy and his predecessor Chris Christie are now cheering the Supreme Court's invalidation of PASPA, as the federal ban is known. Long before today's ruling, New Jersey has been making preparations for it. Locally, one lounge in Monmouth County was reported to be all set to open its doors to patrons within two weeks of a favorable decision, and others are already looking forward to making the Garden State a little bit more like Vegas.
Donald Trump, for his part, is out of the casino business in Atlantic City but his administration nonetheless filed a brief with the Supreme Court siding with the NCAA and the NFL, both of which were hoping to keep the federal sports-betting ban on the books because, in their view, federal law preempted, or displaced, a state's authority to regulate a space that belongs to a higher authority. The Supreme Court didn't buy any of that. In so many words, Alito said that PASPA instead regulates the way states regulate their citizens. "The Constitution gives Congress no such power," he wrote.
Ahead of that conclusion, Alito couldn't help but acknowledge the two sides of the debate, which he distilled thus: "The legalization of sports gambling is a controversial subject. Supporters argue that legalization will produce revenue for the States and critically weaken illegal sports betting operations, which are often run by organized crime. Opponents contend that legalizing sports gambling will hook the young on gambling, encourage people of modest means to squander their savings and earnings, and corrupt professional and college sports." But he added that these competing views amounted to "an important policy choice" that wasn't the Supreme Court's to make. Congress could do so directly, but the fact that it instead passed a law that tied states' hands and left them powerless to do much was an affront to the state-federal division of legislative authority set out in our founding charter.
Specifically, the Tenth Amendment. This isn't one of those provisions that are high up on the constitutional pantheon, but it shows up every so often in key cases challenging federal power — its specter loomed large in the first big challenge to the the Affordable Care Act, in which Chief Justice John Roberts concluded that the law's Medicaid expansion was similar to pointing a "gun to the head" of states that declined to accept it. The federal sports-gambling ban is nowhere near the statutory scheme that Obamacare is, but the Supreme Court here nonetheless thought it prudent to think of the ban as a violation of the "anti-commandeering rule" — or the general principle that Congress or the federal government can't boss around the states to do their bidding.
Here, Alito said, the federal sports-gambling ban stood as a direct barrier for states to do much of anything. "It is as if federal officers were installed in state legislative chambers and were armed with the authority to stop legislators from voting on any offending proposals," he wrote, joined by Roberts and Justices Anthony Kennedy, Clarence Thomas, Elena Kagan, and Neil Gorsuch. "A more direct affront to state sovereignty is not easy to imagine." Justice Stephen Breyer also joined all but one section of Alito's opinion — he didn't agree that the Supreme Court should've struck down the entirety of the federal ban, just the part directly affecting the states and leave the rest untouched.
Justice Ruth Bader Ginsburg wrote the dissenting opinion, joined solely by Justice Sonia Sotomayor. In a nimble, five-page document, she said that Alito and his comrades simply went too far, and rather than rule modestly in the dispute, they threw a "wrecking ball" at the law prohibiting sports gambling — which, in her view, doesn't "command" the states to do anything, but instead regulates "economic" activities that could have a significant effect on the flow of commerce among the states. "When a statute reveals a constitutional flaw, the Court ordinarily engages in a salvage rather than a demolition operation," Ginsburg wrote, adding that the majority should've used a "scalpel" rather than an "ax" in dealing a blow to a law that not only binds the states, but also private individuals from operating and maintaining sports-gambling operations.
With both of those prohibitions now gone, the floodgates are officially open in all 50 states. And if the raft of breathless press releases from sports-betting groups and businesses I've received since this morning's ruling are any indication, there's little doubt that the industry — and states, sports leagues, law-enforcement agencies, and the public — will soon be betting big.