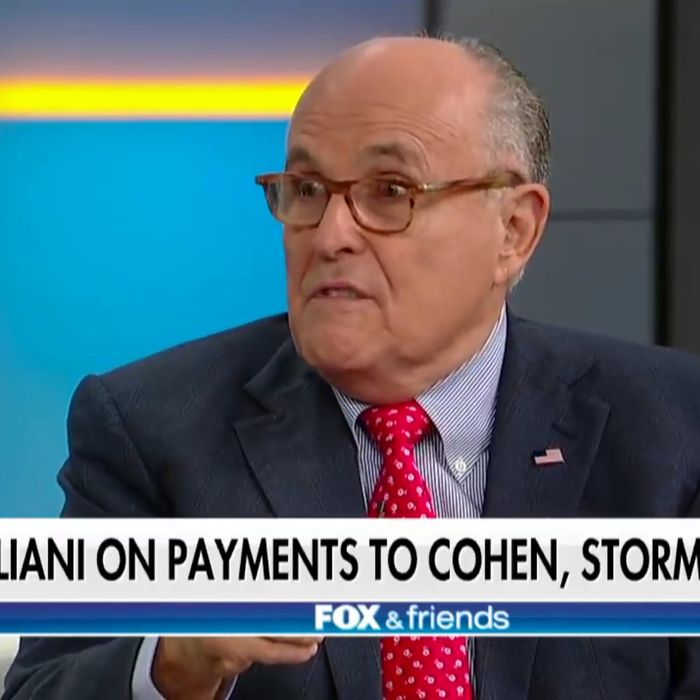 Donald Trump is starting to wonder if it was a mistake to trust an elderly, New York celebrity — who has an infamous affinity for courting cameras and controversy — with a job as important as the president of the United States' lawyer.
Specifically, Trump is worried that his aging, attention-hungry attorney might be incapable of staying on message in cable news interviews. As the Associated Press reports:
President Donald Trump is growing increasingly irritated with lawyer Rudy Giuliani's frequently off-message media blitz, which has included muddying the waters on hush money paid to porn actress Stormy Daniels and making claims that could complicate the president's standing in the special counsel's Russia probe.




Trump has begun questioning whether Giuliani, an old friend and former New York City mayor, should be sidelined from television interviews, according to two people familiar with the president's thinking but not authorized to speak publicly about private discussions.
The AP's report is buttressed by Politico, which writes that the president "has expressed frustration that Giuliani's media appearances are raising more questions than they are answering."
Trump's frustration is understandable. Over the past week, Giuliani has suggested on national televion that the president fired James Comey for refusing to do his bidding on the Russia investigation (which would implicate Trump in obstruction of justice); revealed that Trump reimbursed Michael Cohen for his hush payment to Stormy Daniels (which implicated the president in many lies); and suggested that said hush payment was politically motivated (which would implicate the president's campaign in a major campaign-finance violation).
In that same time span, Giuliani also referred to FBI agents as "stormtroopers," and delivered an address to a "former" Iranian terrorist organization, in which he announced that the president supports "regime change" in Tehran — a claim Trump's State Department proceeded to vigorously deny.
So: Not the most heart-warming debut a Rudy has ever had.
But in Giuliani's defense, it's hard to fault a man for failing miserably at an impossible job. After all, the entire reason why Trump is saddled with such substandard representation is that he's an even worse client than Giuliani is defense attorney.
It is a bad idea for the president's lawyer to make frequent, incendiary television appearances; but that is what the president requires his lawyers to do. Trump desires a belligerent defense in the court of public opinion (and/or, the court of "Judge Jeanine") as much as, if not more than, he wants an effective one in a court of law. In fact, the president routinely sacrifices his legal interests to "fight back" on cable news.
Trump wanted Giuliani to liken federal law enforcement to sci-fi villains, and James Comey to Judas on Fox News. The trouble is that he also wanted Rudy to explain to Sean Hannity's audience why, in October 2016, Michael Cohen would have paid $130,000 to a porn star whom Trump did not have an affair with, even though Cohen was not concerned that Daniels's story would hurt Trump, politically (as such concerns would render the payment an unambiguous campaign finance violation); and then, also, why Cohen would have done this this without ever notifying the president — even though women threatening to go public about their (fictional) affairs with Donald Trump was not a regular occurrence, and thus, Cohen had no way of knowing how Trump would have wanted him to handle such an unprecedented situation:
[I]n weekend interviews, Giuliani appeared to dig himself a deeper hole by acknowledging that "Cohen takes care of situations like this, then gets paid for them sometimes." He did not rule out the possibility that Cohen had paid off other women.




Trump, who has denied the affair with Daniels, was angry that Giuliani had given the impression that other women may have made similar charges of infidelity, according to the people familiar with his views.
Why this would have angered Trump is difficult to understand. In the president's own statement about the Daniels payment, he suggested that entering nondisclosure agreements (NDAs) with extortionists who falsely claim that they had an affair with you is "very common among celebrities and people of wealth." More fundamentally, as indicated above, if drafting such NDAs wasn't a routine part of Cohen's job, then it looks (even more) implausible that the payment was made without Trump's knowledge (as the president had long insisted). And then, of course, the fact that other women have made similar (and, in some cases, far more severe) charges of sexual impropriety against the president is not exactly a secret that Giuliani failed to guard.
In addition to asking his attorneys to make legally hazardous — and logically incoherent — arguments on cable news, the president also refuses to abide by his lawyers' advice, pay them everything they're owed, and stay focused during legal prep. As The Wall Street Journal reports:
Preparing Mr. Trump to testify would be a serious distraction to his work as president, eating into time he needs to deal with pressing global issues, Mr. Trump's lawyers contend.




In an informal, four-hour practice session, Mr. Trump's lawyers were only able to walk him through two questions, given the frequent interruptions on national-security matters along with Mr. Trump's loquaciousness, one person familiar with the matter said.
Forcing Trump to testify in the Russia investigation would make it impossible for him to execute his presidential duties — because his attention span is so limited, it takes him two hours to prepare an answer to a single question. This appears to be the Trump legal team's argument for why his fitness for high office shouldn't be the subject of a vigorous investigation.
One could see all this as cause for questioning the president's taste in attorneys — but it seems like a stronger indictment of the American electorate's taste in presidents.