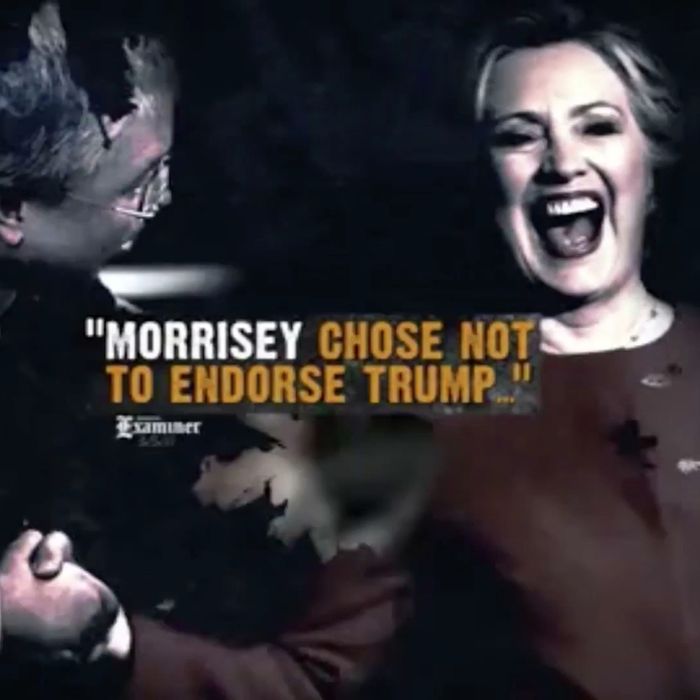 This image of Pat Morrisey shaking hands with a demonic-looking Hillary Clinton is entirely phony.
Slanting the facts is a staple of competitive political campaigns. But it does cross an important line when campaigns just make stuff up. That seems to be happening with the two leading candidates for the GOP Senate nomination in West Virginia, Attorney General Patrick Morrisey and U.S. Representative Evan Jenkins. In both cases, they are trying to accuse the other of some sort of deep affection for Hillary Clinton — presumably a big turnout for West Virginia GOP primary voters who probably want to Lock Her Up — without having the facts behind them at all.
It all seemed to begin when Morrisey ran a series of ads drawing attention to Jenkins's pre-2013 Democratic affiliation, and emphasizing his alleged support for Hillary Clinton in 2008. Here's a sample:
Some ads showed Jenkins sporting a 2008 Clinton campaign button. And after complaints from the Jenkins campaign, Morrisey's put out a paper providing at best a shaky circumstantial case that Jenkins might have voted for Clinton in the 2008 West Virginia primary — but might not have done so at all. Ballotpedia fact-checked the claim (along with the closely associated claim that Jenkins supported "cap and trade" legislation) and found it to be unsupported by actual facts.
If Morrisey's HRC-flavored attack was highly and deliberately mendacious, Jenkins's retaliation was way over any imaginable line. His campaign ran an ad that must have been startling to West Virginia Republicans:
The image of Morrisey shaking hands with Hillary Clinton is, as the Jenkins campaign has admitted, completely phony. It was actually created by photoshopping an image of Morrisey shaking hands with — wait for it — Donald Trump! In the lamest explanation ever, Team Jenkins allowed that they had taken "creative license" with the images "to make a substantive point." It's hard to see what that point would have been other than to convey a lie.
As FactCheck.org explains, all the stuff in the ad about Morrisey "betraying" Trump and refusing to support him appears to be based on the slim reed of his reluctance to back the mogul before he won the GOP nomination. In fact, Morrisey voted for Trump at the Republican National Convention, repeatedly expressed support for him in the general election, and even served as a Trump voter in the Electoral College. The whole ad is a pack of lies.
If these birds are willing to descend to this level against a fellow Republican, I suspect the winner (which could also be Don Blankenship, another truth-challenged advertiser) will go to insane lengths against incumbent Democrat Joe Manchin.
The moral of this story is not just the mendacity both campaigns have shown in attack ads on fellow Republicans. It also shows, as USA Today put it in a comment on this and other incidents from GOP primaries, that "Republicans are running against Hillary Clinton. Still."
In total, nearly 13,000 TV commercials Jan. 1 through April 24 mentioned or showed a photo of Clinton, according to data compiled for the USA TODAY NETWORK by Kantar Media's Campaign Media Analysis Group. 




Republicans in the Ohio governor's race ran the most ads, followed by West Virginia Republicans running for [Senator] and the GOP candidates for Indiana Senate.
And get this:
Only former president Barack Obama has appeared in more ads. Clinton's total tops that of House Minority Leader Nancy Pelosi, who has been mentioned in nearly 10,000 commercials in 2018.
I'm sure it's a coincidence that an African-American and two women head the list of devil figures, and that GOP campaigns are willing to lie to link opponents to them. It's a hell of a way to Make America Great Again.