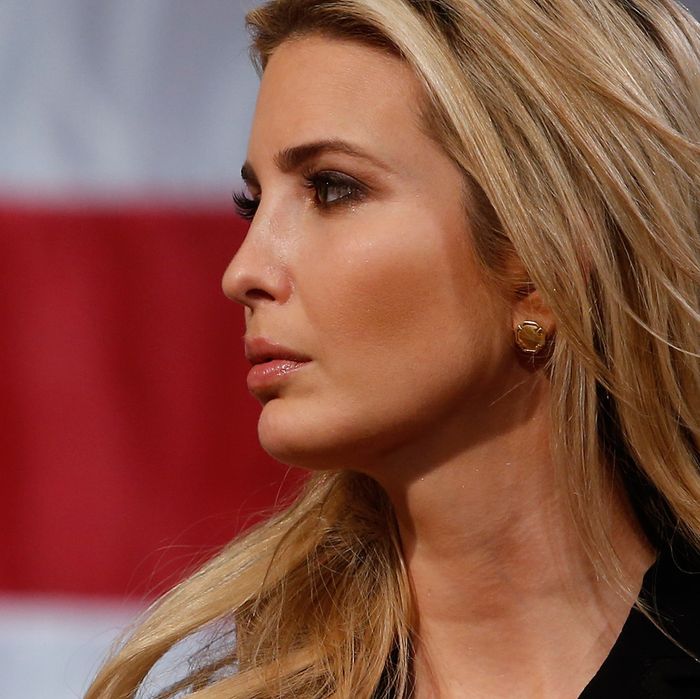 Ivanka Trump suddenly has a Russia problem.
Photo: Jessica Rinaldi/Boston Globe via Getty Images
Unlike nearly every other member of President Trump's inner circle, Ivanka Trump has largely remained untouched by the sprawling investigations into Russian interference in the 2016 election. Until now.
BuzzFeed on Wednesday reported that in the fall of 2015, Ivanka Trump connected her father's personal lawyer, so-called "fixer" Michael Cohen, with a Russian weightlifter offering to arrange a one-on-one meeting between Trump and Vladimir Putin. The reason for the proposed meeting was unrelated to the campaign, BuzzFeed reports. Rather, former Olympian Dmitry Klokov was hoping to help facilitate the construction of Trump's long-desired Moscow high-rise.
Ivanka Trump connected Cohen and Klokov in November of 2015, a month after the Trump Organization signed a letter of intent to bring a Trump Tower to Moscow. Following Ivanka's introduction, Cohen and Klokov had at least one phone call and exchanged a series of emails, BuzzFeed reports. The emails have been examined both by congressional investigators and Special Counsel Robert Mueller's team.
In one of those emails, Klokov told Cohen that he could arrange a meeting between Donald Trump and Putin to help pave the way for the tower. Later, Cohen sent an email refusing that offer and saying that the Trump Organization already had an agreement in place. He said he was cutting off future communication with Klokov. Copying Ivanka Trump, the Russian responded in a final brusque message, in which he questioned Cohen's authority to make decisions for the Trump Organization. Frustrated by the exchange, Ivanka Trump questioned Cohen's refusal to continue communicating with Klokov, according to one of the sources.
A spokesperson for Ivanka Trump's lawyer told BuzzFeed that the First Daughter played a minor role in the negotiations surrounding the 100-story Trump tower. "Her only role was limited to reminding Mr. Cohen that, should an actual deal come to fruition (which it did not) the project, like any other with the Trump name, conform with the highest design and architectural standards," the statement said. The emails obtained by investigators seem to suggest otherwise.