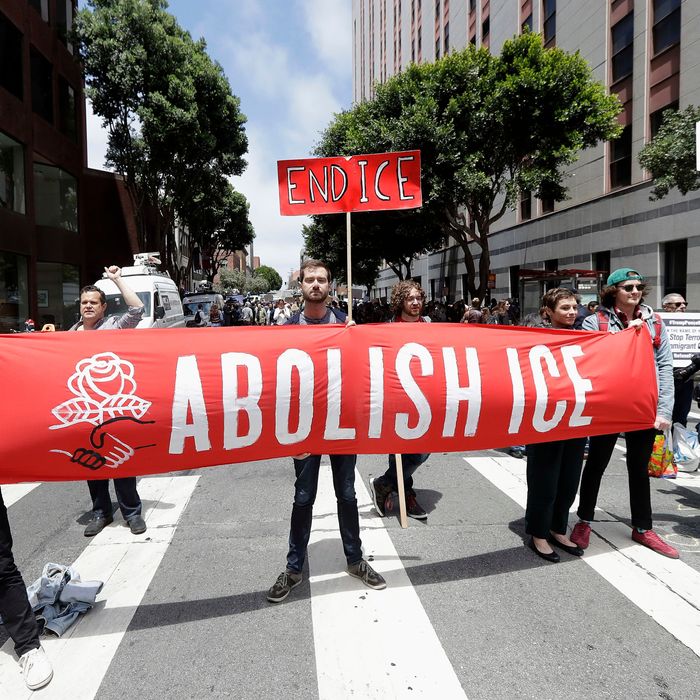 People protest outside the ICE office in San Francisco on June 19, 2018.
Photo: Jeff Chiu/AP/REX/Shutterstock/Jeff Chiu/AP/REX/Shutterstock
Amid the outrage over President Trump's family-separation policy, a slogan that was initially used mostly by immigration activists has become more mainstream: "Abolish ICE." Insurgent Democratic candidates have been calling for the dismantling of Immigration and Customs Enforcement for months, and in recent days four sitting members of the House have joined them, with one announcing this week that he'll introduce the first legislation to do away with the agency.
Here's a look at the origin of what could be a new litmus test for the left, and the arguments for and against Democrats staking out a more extreme position on immigration.
In response to 9/11, the George W. Bush administration created the Department of Homeland Security, which combined 22 different federal agencies into a new Cabinet-level department. For decades Immigration and Naturalization Service had handled legal immigration and the enforcement of laws against illegal immigration, but under the massive government reorganization in 2003, those tasks were split among three new agencies. Now U.S. Citizenship and Immigration Services handles legal immigration, Customs and Border Protection addresses border security, and ICE enforces immigration law within the U.S.
ICE as we know it today is the product of a "deportation machine" that's been been growing in the U.S. for decades, under both Democratic and Republican administrations. As Vox's Dara Lind explains, deportations were once relatively rare, but the 1996 Illegal Immigration Reform and Immigrant Responsibility Act overhauled immigration enforcement, making it harder for unauthorized immigrants to obtain legal status, and making more people eligible for deportation.
"Before 1996, internal enforcement activities had not played a very significant role in immigration enforcement," wrote sociologists Douglas Massey and Karen Pren. "Afterward, these activities rose to levels not seen since the deportation campaigns of the Great Depression."
This increased with the creation of ICE, as there was suddenly an agency dedicated to making immigration arrests within U.S. borders. Since 2003, ICE's annual budget has grown 85 percent, from $3.3 billion to $6.1 billion in 2016. During that time, the number of employees in the agency's Enforcement and Removal Operations, which handles the identification and removal of undocumented immigrants, has tripled. Today ICE has 20,000 employees and 400 field offices and it detains at least 100,000 people annually — as The New Yorker notes, that's "more arrests per year than the F.B.I., the U.S. Marshals, and the Secret Service make combined."
What Started the Push to Abolish ICE?
The immigrant detention and deportation apparatus ballooned in size and power under President Obama, but since this was coupled with talk of focusing on deporting only dangerous undocumented immigrants — and policies like Deferred Action for Childhood Arrivals — the average Democratic voter was not protesting the administration's immigration policies.
The party quickly shifted to the left on immigration as Donald Trump launched a campaign centered on vicious anti-immigrant rhetoric and promises to remove all 11 million undocumented immigrants from the country. Once Trump took office, ICE became the focus of anger over the implementation of his harsh immigration policies.
Days after taking office, Trump signed an executive order directing ICE to focus on the deportation of nearly any immigrant in the U.S. without authorization, not just those with a criminal record. A short time later, there were reports of a nationwide surge in ICE raids, though the agency claimed they were "routine." ICE agents carried out arrests in locations they previously avoided — like courthouses, hospitals, and schools — and targeted people like a Kansas chemistry professor and father who had lived in the U.S. for 30 years, and a woman just diagnosed with a brain tumor.
In the 2017 fiscal year, ICE arrested 37,734 undocumented immigrants with no criminal record, more than double the amount in 2016. The overall number of ICE arrests went up 40 percent from the previous year (though at 105,736, it was well under the high of 434,015 arrests set under Obama in 2013).
In this climate, Sean McElwee, a freelance writer, created the #AbolishICE hashtag in February 2017. "Abolish ICE is a demand straight from the grassroots of the progressive movement. Abolish ICE was not poll-tested or focused grouped," he told Splinter. "It shows that power of a simple, maximalist demand with a clear moral vision."
The call to "abolish ICE" was embraced by activist groups like United We Dream and Make the Road, and has been gaining steam on the left for months. McElwee laid out his case in The Nation in March, saying "ICE has become a genuine threat to democracy, and it is destroying thousands of lives." He said that while some pundits have questioned who would carry out deportations in place of ICE, they're missing the point: "the goal of abolishing the agency is to abolish the function."
In the Washington Post, Molly Roberts agreed that Democrats should call for abolishing ICE, just as Republicans regularly call for getting rid of the Internal Revenue Service, or various Cabinet-level departments they find superfluous. Roberts wrote:
It may seem odd, or even radical, that Democrats are asking for an agency to get the ax. Small government has always been a Republican principle. But the Democrats have some principles too, and one of them rests on that old concept of the United States as a nation of immigrants. Prospective presidential candidates claim they'd like to enact comprehensive reform to restore that vision. There's no reason reform shouldn't include disbanding a deportation squad (and transferring duties such as customs investigations elsewhere).
Where Do Lawmakers Stand?
When MSNBC's Chris Hayes asked Senator Kamala Harris for her opinion on ICE during an interview in March, she said, "ICE has a purpose, ICE has a role, ICE should exist. But let's not abuse the power."
Since Trump's family separation policy put immigration issues at the forefront of the national discussion, calls to abolish ICE have grown more prominent among the public, and with lawmakers. McElwee told the San Francisco Chronicle that his Data for Progress firm counted 3,600 tweets using the hashtag #AbolishICE in the first five months of 2018, and there have already been 25,000 in June.
At least 19 Democratic challengers in House races have said they want to do away with ICE. Matt Haggman, who's facing former Clinton Cabinet member Donna Shalala in a Florida Democratic congressional primary, made it the focus of a campaign ad:
So far only four Democratic incumbents in the House have embraced the push to abolish ICE. The latest, Representative Mark Pocan of Wisconsin, announced his position in a statement on Monday morning, saying, "President Trump and his team of white nationalists … have so misused ICE that the agency can no longer accomplish its goals effectively." Pocan also said he plans to introduce legislation that would get rid of the agency.
While Senator Harris still stopped short of saying ICE must go, she shifted her rhetoric in an interview with MSNBC on Sunday, saying she thinks there is "no question that we've got to critically reexamine ICE and its role, and the way that it is being administered and the work it is doing. And we need to probably think about starting from scratch."
Other prominent Democrats have suggested they're in favor of reforming ICE, but not starting over. House Minority Leader Nancy Pelosi's spokesman, Drew Hammill, said she "believes that ICE has been on the wrong end of far too many inhumane and unconstitutional practices to be allowed to continue without an immediate and fundamental overhaul."
Other Democrats have warned that advocating a position as extreme as abolishing ICE entirely might be a gift to Republicans, as it supports their claims that Democrats don't really want to enforce immigration laws. Cecilia Muñoz, who served as the director of the White House Domestic Policy Council under Obama, told Slate that while she understands the sentiment, she doesn't think the call to "abolish ICE" is productive or realistic.
"If the debate is whether there should be immigration enforcement, then I think we give the other side a really powerful tool to win hearts and minds," Muñoz said. "I think that's a mistake. Look, abolishing ICE sounds very close to saying, 'Well maybe we don't need a border. Maybe we don't need immigration enforcement.'"
She continued, "I don't believe that's where the country is, and I don't believe we can be successful in protecting people if that's the argument that we're making."