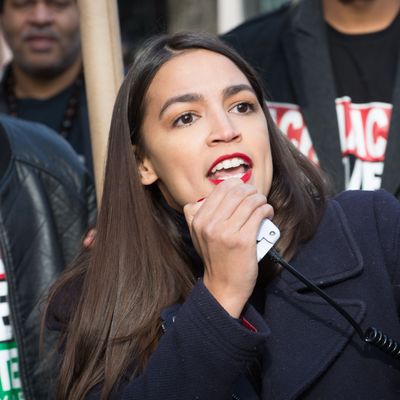 First-time candidate Alexandria Ocasio-Cortez, who upset veteran Representative Joe Crowley in a Democratic congressional primary.
Photo: M. Stan Reaves/REX/Shutterstock/M. Stan Reaves/REX/Shutterstock
In a shocker that is already being compared to the 2014 primary loss by then–House Majority Leader Eric Cantor, the chairman of the House Democratic Caucus (the fourth-ranking leadership position among House Democrats), ten-term veteran Joe Crowley has been upset by 28-year-old first-time candidate Alexandria Ocasio-Cortez in the Bronx-Queens 14th congressional district.
Like Dave Brat, the upstart who beat Cantor, Ocasio-Cortez drew a sharp ideological line between herself and the incumbent, suggesting his cautious centrism and corporate ties made him a poor representative of such a heavily Democratic district. She had street cred as a former Bernie Sanders organizer, and was endorsed by New York's premier progressive celebrity, gubernatorial candidate Cynthia Nixon. Perhaps even more importantly, the challenger is of Puerto Rican descent; the 14th is half Hispanic and 70 percent minority. Crowley, an Irish-American party organization man (he is chairman of the Queens Democratic Party), is like a holdover from a different era of New York politics.
And his power did him little good. He lost Queens by an even larger margin than the Bronx, and overall he's losing by about 15 points with most of the vote in.
As David Freelander observed yesterday, the fact that Crowley is even in a competitive race has come as a shock to his colleagues in Washington:
Crowley is often talked about as a next potential Speaker of the House, and if Ocasio-Cortez makes him sweat, it could make Democrats reluctant to turn to him as someone who could lead the caucus.
It's not like he's some septuagenarian who has clearly lost a step. At 56, Crowley should be approaching the crest of his political career. The three pols ahead of him in the House Democratic pecking order are ages 78 (Nancy Pelosi), 79 (Steny Hoyer), and 78 (Jim Clyburn). But instead of envisioning himself with the big gavel, Crowley is about to become a former member of Congress. And the repercussions go beyond his now-absent spot in the House Democratic pecking order: given the already rampant talk of progressive insurgency in the Democratic Party, other powerful Democrats may soon be hearing footsteps.
Meanwhile Ocasio-Cortez will become the embodiment of two different 2018 trends: the emergence of loud-and-proud progressives, especially in districts where "centrism" isn't necessary to hold seats; and the spectacular performance of Democratic women. That this soon-to-be new member is also a woman of color makes her even more emblematic of where the party seems to be moving in the 21st century.