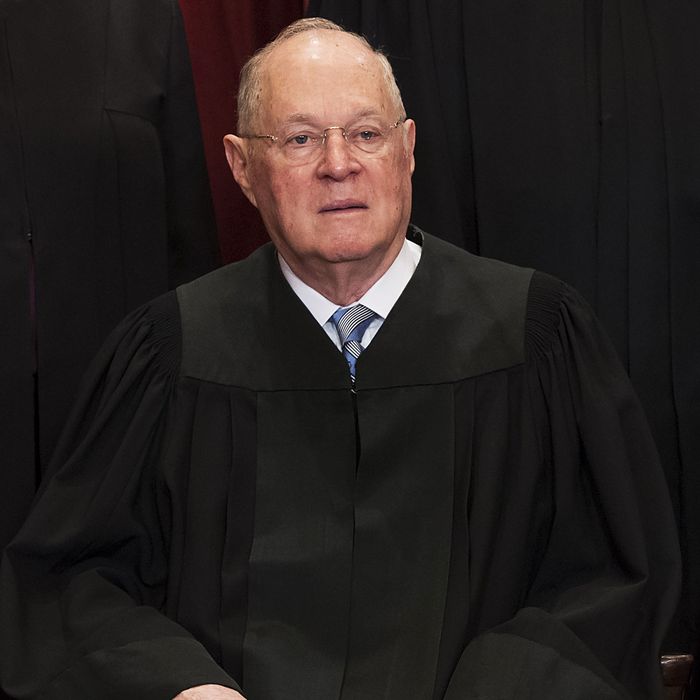 The long-awaited retirement of the Court's swing justice is a really big deal.
Photo: Saul Loeb/AFP/Getty Images
When the Supreme Court adjourned for the current term today without any retirement announcements from the bench, those anticipating the possible departure of Anthony Kennedy (or less likely, Clarence Thomas) relaxed, figuring the current Court would stay in place for at least another term. But no: Kennedy announced his retirement by a press release:
"It has been the greatest honor and privilege to serve our nation in the federal judiciary for 43 years, 30 of those years on the Supreme Court," Kennedy said in a statement. He said that he wanted to spend more time with his family and that his decision would be effective July 31.
To say, as Politico does, that Kennedy's retirement is "unleashing an epic political battle to replace him that could allow President Donald Trump to shift the court to the right for a generation to come" is almost an understatement. It is the moment that conservative activists — particularly those devoted to the overturning of Roe v. Wade and the very idea of constitutional reproductive rights — have awaited eagerly for a long, long time. And defenders of those rights are already sending up alarms:
It is generally thought there are four justices currently on the Court (Roberts, Thomas, Alito, and Gorsuch) inclined to overturn or at least significantly modify Roe, and there is no question that Donald Trump's conservative Evangelical supporters will expect him to name a Kennedy successor who is a sure vote for that epochal reversal of constitutional law as we have known it for the last four decades. Kennedy led a group of five justices (including Ginsburg, Breyer, Sotomayor, and Kagan) who as recently as 2016 reaffirmed the right to choose and struck down state laws seeking to run abortion clinics out of business. All that could change, and the Christian right can also now hope that the landmark LGBTQ rights decisions with which Kennedy was closely associated may not be as permanent as most progressives assumed.
Beyond cultural issues, Kennedy was frequently the "swing vote" on a closely divided Court in dealing with a wide array of issues, including gerrymandering, the scope of First Amendment protections, and affirmative action, among others. He helped form a SCOTUS majority in over 90 percent of cases.
There's not much mystery about where the president will look in order to find a successor to Kennedy. He already has a publicly released a list of 25 SCOTUS candidates, carefully vetted by the Federalist Society and other judicial conservatives. Sure, there will be calls from Democrats and perhaps even some Republicans for a "moderate" nominee, but that won't happen (except perhaps in the highly relative sense of some prospects being less rigidly conservative than others). Judicial nominations, and especially SCOTUS, are at the very center of Trump's implicit bargain with conservatives who dislike many of the other things he is doing.
The fight over the confirmation of a Kennedy successor could soon eclipse all other issues in Washington. The key question right now is whether the White House and the Senate will try to get a new justice on the Court before the November elections (using the plausible theory that the Court needs a full complement of jurists when its October term begins). Mitch McConnell says that's his plan. It helps that he's already canceled the Senate's August recess, providing a clear window for confirmation hearings. Democrats will undoubtedly seek delays, and if they can discipline their own ranks, it will only take one Republican (assuming John McCain is still absent) to derail any fast-moving confirmation train. Pro-choice GOP senators Susan Collins and Lisa Murkowski (both of whom voted to confirm Trump's first SCOTUS pick, Neil Gorsuch) are sure to come under intense pressure from both parties.
And if the confirmation fight does extend beyond this fall, then competitive Senate races in November could turn into holy war.
There are a lot of details yet to be worked out about the timing of White House and Senate actions on a Kennedy replacement. But it's a really big deal. Fasten your seat belts for a wild ride.