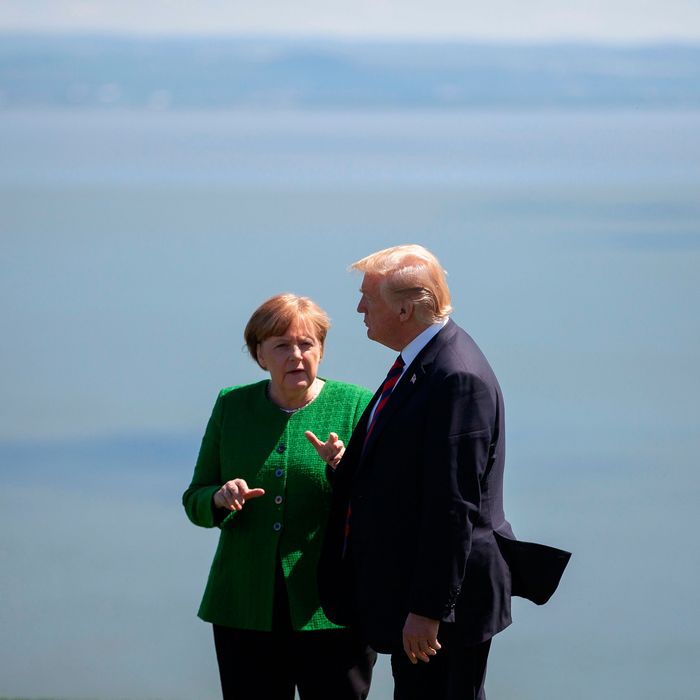 Keeping your enemies close, and your friends far away.
Photo: Geoff Robins/AFP/Getty Images
On the first day of this month, Donald Trump took unilateral action to protect the United States from the "national security threat" posed by cheap, European metal. Specifically, the president slapped a 25 percent tariff on steel imports — and a 10 percent duty on aluminum — in apparent defiance of WTO rules.
On Friday, the European Union retaliated by slapping tariffs on $3 billion worth of U.S. exports, including 25 percent duties on Harley-Davidson motorcycles (which are manufactured in Paul Ryan's home district), bourbon (which is bottled in Mitch McConnell's home state), and corn (which is, of course, a staple of many breadbasket states that voted for Donald Trump).
"The trade that we believe in is built on rules, trust, and reliable partnership," E.U. Commission president Jean-Claude Juncker said Thursday night. "The United States' decision to impose tariffs on Europe goes against that. In fact, it goes against all logic and history."
The E.U.'s retaliation is relatively modest — Trump's tariffs had hit roughly $7.5 billion of European products. But the E.U. has signaled its intention to push through another round of duties in the future, if the president persists in pretending that European metal threatens the safety of the American people.
And all signs suggest that Trump has no interest of backing down. In fact, the president responded to the E.U.'s duties Friday morning by threatening to impose a 20 percent tariff on all foreign-made cars.
It's worthing noting that, before Trump triggered a trade war, U.S. exports to the E.U. faced an average tariff of just 3 percent; America's domestic carmakers were already highly profitable; and most major foreign automakers operate large plants in the United States. Thus, it's unclear what problem Trump's car tariff is supposed to solve — unless the president believes that car prices in the U.S. are intolerably low.
Meanwhile, the United States is poised to slap a 25 percent duty on $34 billion worth of Chinese goods early next month — and China has promised to respond in kind. If Beijing follows through on that threat, Trump has vowed to put duties on an additional $200 billion of Chinese goods.
One upshot of all this: After passing massive tax cuts for the wealthy and corporations, the Republican president is now preparing to dramatically raise taxes on American consumers in the run-up to November's midterm elections.