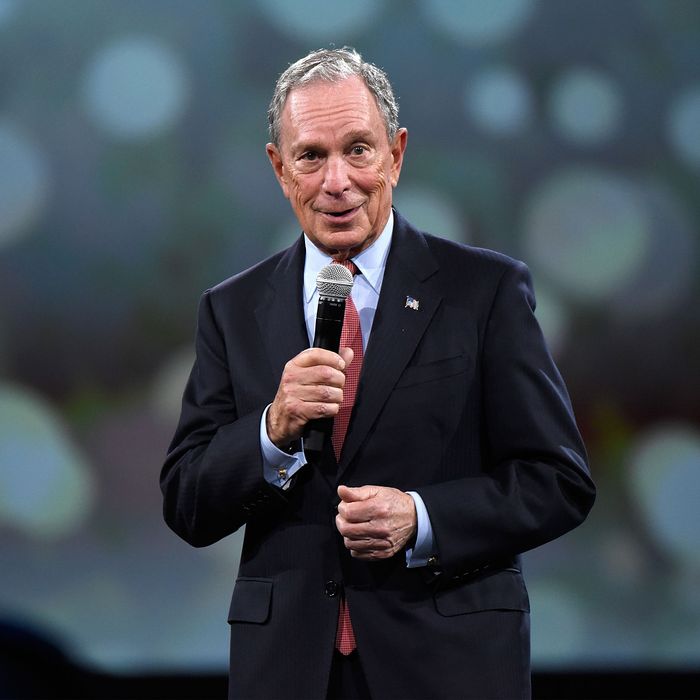 The former New York mayor is committing $80 million to an effort to flip the House in November.
Photo: Kevin Mazur/Getty Images
In the back and forth between the two parties who are battling for an edge in the upcoming midterm elections, Democrats gained a major asset today in the form of a big new bag of campaign money, as the New York Times reports:
Michael R. Bloomberg, the billionaire former mayor of New York City, has decided to throw his political clout and personal fortune behind the Democratic campaign to take control of the House of Representatives this year, directing aides to spend tens of millions of dollars in an effort to expel Republicans from power.




Mr. Bloomberg — a political independent who has championed left-of-center policies on gun control, immigration and the environment — has approved a plan to pour at least $80 million into the 2018 election.
Even in today's environment, $80 million is a lot of money:
And the impact of Bloomberg's money may be enhanced if it is concentrated, as appears to be the plan, on competitive House districts in the kind of suburban districts where Bloomberg's name isn't mud:
[Bloomberg will bankroll] advertising on television, online and in the mail for Democratic candidates in a dozen or more congressional districts, chiefly in moderate suburban areas where Mr. Trump is unpopular. Democrats need to gain 23 congressional seats to win a majority.
While Bloomberg has been Democratic-leaning of late, and endorsed Hillary Clinton for president in 2016, this is the first time he's really committed himself to the donkey team. Yes, he may still back a few Republicans in state and local races, but will "spend little or nothing on Republicans at the federal level, his advisers said." And his chief adviser for the 2018 effort, by the way, will be longtime Democratic operative Howard Wolfson, who definitely knows the landscape.
When the key competitive House races come into sharp relief in the early autumn, Bloomberg's money could become pivotal.