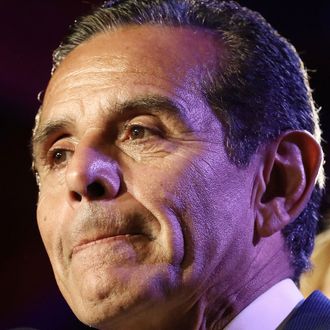 Former Los Angeles mayor Antonio Villaraigosa was one of several major Democratic candidates who had a bad night in California's top-two primary.
Photo: Mario Tama/Getty Images
In the June 5 primary in a state where Democrats want and need to pick up a boatload of House seats this year, the good news for the Donkey Party is that they have (apparently) avoided the much-discussed calamity of a general election "lockout" in three Southern California districts where a plethora of Democratic candidates meant Republicans might finish first and second and take both spots on the ballot in November. Which is to say, Democrats will be on the ballot in several key U.S. House races in November — an outcome that was not a given under the Golden State's unorthodox new "top two" voting system, which advances the pair of candidates with the largest vote tallies in the primary, regardless of party.
I say "apparently," because even though a Democrat is currently in second place in the 39th, 48th, and 49th Districts — the flippable Southern California districts that were most vulnerable to a lockout scenario — there are enough outstanding ballots to create some doubt in the 39th and 48th. And Democrats aren't out of the woods in the 10th District (located in the Central Valley), where another Republican is running a close third in the district being defended by the GOP's Jeff Denham. In the San Diego's 49th District, now represented by the retiring Republican Darrell Issa, it is clear that one of three Democrats (Mike Levin, Sara Jacobs, and Doug Applegate) will have a general election spot opposite GOPer Diane Harkey. But California counts mail ballots postmarked by primary day and received in county election offices by Friday, June 8. So there's no telling how many votes are still out there. Eleven million mail ballots were sent out to registered voters who are either permanently registered to vote by mail, or who requested mail ballots for this primary. As of this morning, roughly 2.7 million had been returned, and it's unclear exactly how many have been counted.
Aside from the order of finish in various races around the state, the outstanding mail ballots hold the mystery of total turnout in the primary. At this point, a good guess is about 30 percent, which is better than the record low 25 percent in 2014, but hardly what you'd expect if voters are indeed excited beyond all reality by the opportunity to vote for or against Donald Trump's presidency. There was no apparent "blue wave" in the primary either: it looks like the partisan breakdown of primary voters was roughly 60/40, which is what you'd normally expect (it was precisely the split in the 2014 governor's race here), but nothing out of the ordinary. It will be a while before ethnic breakdowns are available, but the poor showing of statewide Latino candidates Antonio Villaraigosa (who missed the top two in the governor's race by a mile) and Kevin de León (who finished second in the Senate race to Senator Dianne Feinstein, but nearly lost his general-election spot to a random Republican) suggest Latinos did not show up proportionately.
At last count Villaraigosa was being beaten nearly two-to-one by Donald Trump's candidate John Cox. Now, barring some really strange development Cox is not going to beat first-place finisher Gavin Newsom in November. And it's clear both Newsom and many of his progressive supporters are happy to be facing a Republican instead of a Democrat in the general election. Some Democrats even believe it's better for the party because progressive money can be spent on down-ballot contests. But a "lockout" of Republicans in both the top statewide races might have been a real downer for GOP turnout in November, and now MAGA-people will have the option of voting for someone personally blessed by POTUS.
The real losers in the governor's race last night were the group of billionaires who largely bankrolled Villaraigosa's campaign in a proxy war with teachers' unions over charter school laws in the state. They do have a candidate in the nonpartisan Superintendent of Public Instruction race, Villaraigosa ally Marshall Tuck, who will face union-backed Tony Thurmond in November. It remains to be seen how much they are willing to spend on that largely symbolic post.
Aside from losing the "lockout" of Republicans in the governor's race, there were other clouds obscuring the sun for Democrats in the primary results. In Orange County, which is where several of the red-hot U.S. House races are occurring, Democratic state senator Josh Newman was recalled by a decisive vote after a campaign that focused on his allegedly treacherous vote for a big gas tax increase (linked to horribly overdue road repairs) last year. This was basically a trial run for a November ballot initiative aimed at repealing the gas tax, which Republicans hope will be their big turnout generator, in Orange County and elsewhere. More immediately, Newman's loss costs Democrats the supermajority they held in the state senate (necessary for tax increases and certain other measures), though they could get it back in November.
Perhaps not coincidentally, Republicans are at this point winning a majority of the primary vote in the three competitive Orange County districts: the aforementioned 39th and 48th, and in Representative Mimi Walters's 45th. (In the 49th, which runs down to San Diego County, Democrats have a slight majority, probably because they have three candidates who spent heavily on the race.) The general electorate typically skews more to the left than the primary electorate, so there's hope yet for Democrats in November. But with all their issues, Golden State Republicans aren't going to just surrender. Democrats need to kick it up a notch, and may have the resources to do so after the long waking nightmare of this year's top two.