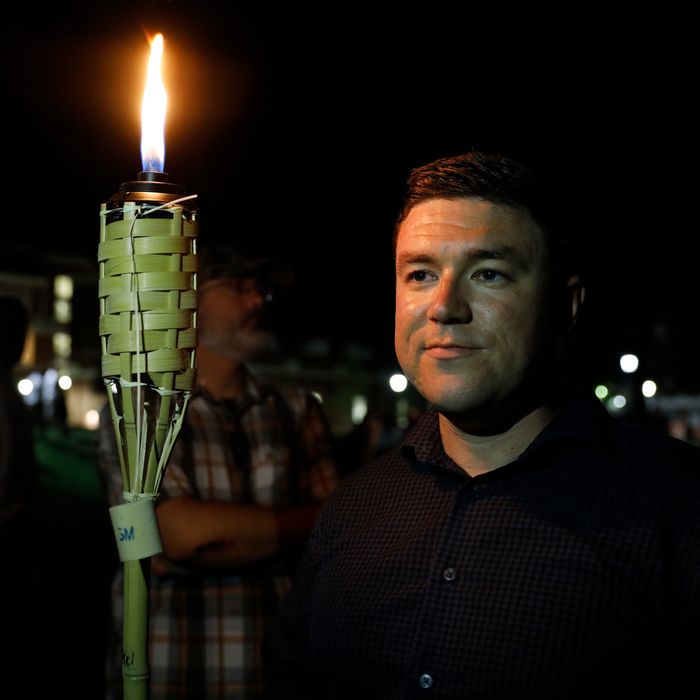 Kessler before the torch march in Charlottesville last August.
Photo: The Washington Post/The Washington Post/Getty Images
Jason Kessler, the white supremacist who organized last summer's deadly rally in Charlottesville, Virginia, is planning to mark the anniversary with an event in D.C.'s Lafayette Square, right across from the White House.
The National Park Service has approved Kessler's request, but has yet to issue the permit, according to the Washington Post. On the application, Kessler estimates that 400 people will show up on Saturday, August 11 and Sunday, August 12 for the purpose of "protesting civil rights abuse in Charlottesville Va / white civil rights rally." The plan is for participants to meet at a rally point designated by law enforcement, march to Lafayette to give speeches, then return to the rally point. Kessler notes "members of Antifa affiliated groups will try to disrupt."
Hundreds turned out for last year's Unite the Right rally in Charlottesville, which was held to protest the removal of a statue of Confederate General Robert E. Lee. Police initially stood by as white nationalist marchers clashed with protesters. Authorities say that after they shut down the event, self-described Nazi James Alex Fields Jr. drove his car into a large group of counterprotesters, killing 32-year-old Heather Heyer and injuring 35 people.
A week later, Kessler tweeted, "Heather Heyer was a fat, disgusting Communist. Communists have killed 94 million. Looks like it was payback time." He later deleted the tweet, claiming he was drinking and taking Ambien and Xanax when he posted it.
This spring Kessler sued the city of Charlottesville after officials denied his request to hold a one-year anniversary event there, saying the event would pose a "danger to public safety." The lawsuit has not been resolved, and Kessler said he expects to win and hold rallies in both Charlottesville and D.C. on August 12.
Kessler told the Post that he decided to hold an event in D.C. because he wants President Trump and other elected officials to know about "the civil rights abuse by the Charlottesville government that led to the violence at last year's rally." He also claimed "white people are being denied the ability to organize in political organizations the way other groups do, free of harassment, to face the issues important to us."
Trump seems familiar with events in Charlottesville, as he kept the outrage going for days when he blamed "both sides" for the violence, and said there were "some very fine people" at the white-supremacist rally.
"I am not surprised at him holding a rally away from Charlottesville, where he is not welcome," Susan Bro, the mother of Heather Heyer, told the Post. "It will be interesting to see how the citizens of D.C. and others respond to his rally."