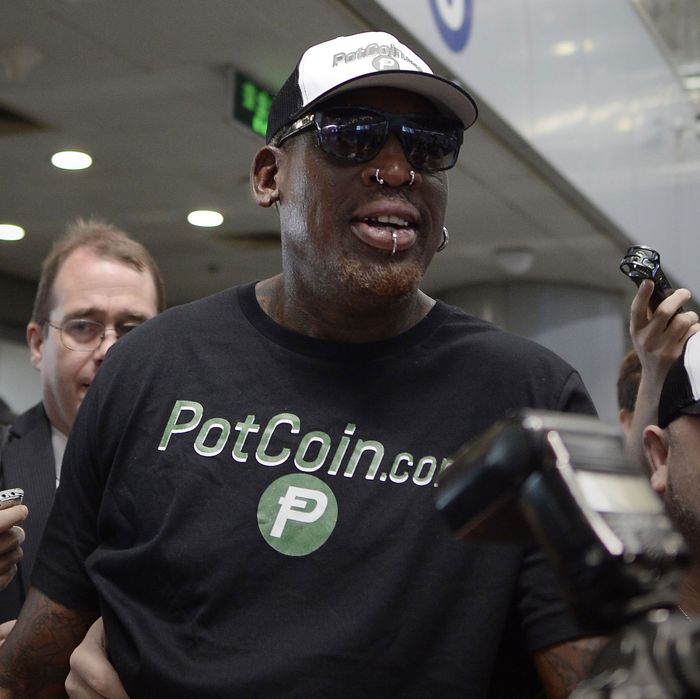 Dennis Rodman arrives in Pyongyang last summer.
Photo: Wang Zhou/AFP/Getty Images
It's official: Dennis Rodman will join Donald Trump and Kim Jong-un in Singapore for their historic summit next week. Or, at least, he'll be there at the same time that they are.
Rodman announced his travel plans on Twitter Friday and credited PotCoin, a cryptocurrency for the legal weed industry, for making the trip happen. PotCoin has previously sponsored Rodman's trips to North Korea so he could hang out with Kim, whom the ex-NBA star once called a "friend for life."
Trump was asked Friday morning if Rodman, a two-time contestant on Celebrity Apprentice, was invited to the summit. "He wasn't, but I like Dennis," Trump said. "A great rebounder. When you think Dennis was a great rebounder and he wasn't relatively speaking that tall. So that tells you, you know, there's a rebounding, there's a genius for that. Dennis Rodman was a great rebounder."
But Rodman doesn't need an invitation as long as he's got PotCoin in his corner. "The PotCoin team as a community has been incredibly supportive of Rodman's peace mission from the beginning," spokesman Shawn Perez told the Washington Post. It's also been supportive of the publicity Rodman generates. Last summer, when PotCoin sent Rodman on his most recent trip to Pyongyang, the cryptocurrency soared in value.
Rodman, meanwhile, appears hopeful that Trump and Kim will reach a historic agreement in Singapore.
If they do, expect to hear more people saying what PotCoin's Perez told the Post: "We at PotCoin definitely believe that Dennis Rodman deserves the Nobel Peace Prize jointly with President Trump and the Marshal Kim Jong Un."