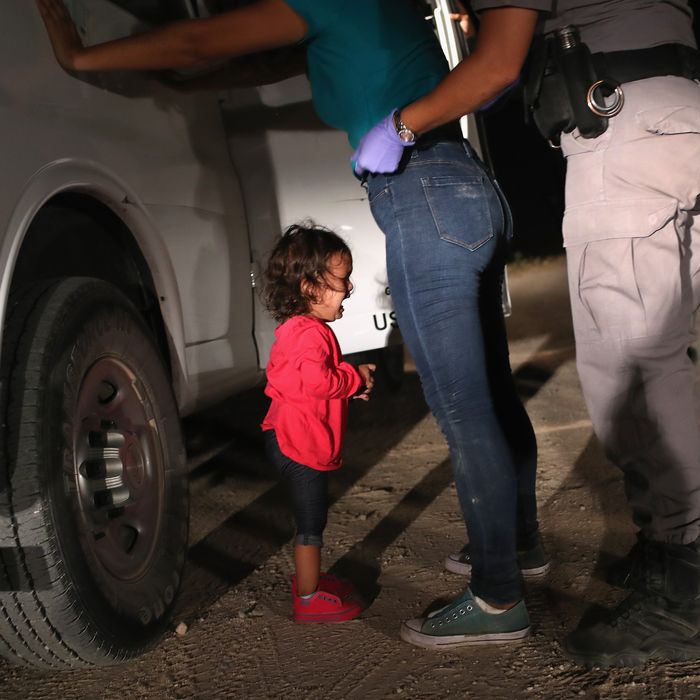 A two-year-old Honduran girl and her mother in McAllen, Texas.
Photo: John Moore/Getty Images
Nearly 2,000 children were taken from their parents at the U.S. border with Mexico in the six weeks between April 19 and May 31, the Department of Homeland Security said Friday. Two weeks into June, the total number of migrant families torn apart by the Trump administration is even higher.
Through May, DHS stats put the exact number of children separated from parents at 1,995. The 1,940 adults accompanying those children are being held for criminal prosecution. Because federal law prohibits children from being held in jail, they have been taken from their parents and put into facilities like the former Walmart in Brownsville, Texas, that currently houses around 1,500 boys.
President Trump insists that the separation policy is the result of a Democratic Party law, but that's not true. In April, Attorney General Jeff Sessions announced a new "zero tolerance" policy for migrants detained while crossing the border between ports of entry. No longer would families caught illegally crossing be referred for civil deportation, which allowed children to stay with their parents, who stayed out of jail as they waited for their court date.
Instead, all adults are now criminally prosecuted when caught crossing the border illegally. That means families must be broken up. And with Trump using the issue as a bargaining chip in his quest to get the rest of his immigration wish list, there's little sign it's going to stop soon.