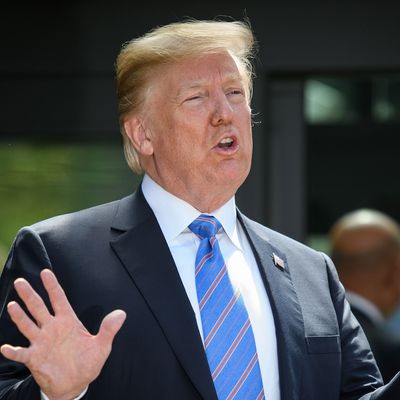 A man who has never been the victim of a "WITCH HUNT."
Photo: Leon Neal/Getty Images
Donald Trump has claimed that a secret cabal of "deep state" Democrats within the FBI "rigged" the bureau's investigation into Hillary Clinton — thereby allowing her to escape accountability for violations of information-security protocol that should have landed her in prison — even as said cabal orchestrated a "WITCH HUNT" into his campaign's nonexistent ties to Russian hacking, in a diabolical, anti-democratic bid to get Clinton elected.
In light of these (alternative) "facts," the president maintains that the ongoing investigation into Russian interference in the 2016 election— and his own alleged attempts to interfere with that investigation — is so "corrupt" and baseless, it should be ended as soon as possible.
There are several reasons to question Trump's word on this subject. To name a few:
• A new report from the Justice Department's inspector general "found no evidence that the conclusions by department prosecutors" in the Clinton email investigation "were affected by bias or other improper considerations … Rather, we concluded that they were based on the prosecutor's assessment of facts, the law, and past department practice."
• The president is known liar who frequently, publicly admits that he likes to tell lies.
• Trump has made many, many specific claims about "deep state" conspiracies against him that have proven to be completely false.
• Donald Trump Jr. has publicly confessed to accepting an ostensible offer of opposition research from the Russian government, while Trump campaign aide George Papadopoulos has admitted to seeking thousands of stolen Clinton emails from a woman he believed to be Vladimir Putin's niece.
• Donald Trump has admitted, on national television, that he fired James Comey (at least, in part) because he disapproved of the FBI director's handling of an investigation into his campaign (an act that would ostensibly constitute obstruction of justice). He subsequently argued — in many, many interviews — that the job of the attorney general is to protect the president from legal scrutiny – and that he, as president, has the absolute authority to shut down any investigation he does not like. (This seems like a reasonable basis for investigating the possibility that the president has tried to obstruct justice).
• In the days preceding the 2016 election, the FBI leaked word to the New York Times that there was "no clear link between Trump and Russia," and publicly announced the reopening of its investigation into Hillary Clinton's email server — on the basis of new evidence that turned out to be neither "new" nor "evidence." (This seems like an odd way for a Democratic cabal dedicated to the election of Hillary Clinton to approach its mission.)
• The special counsel's investigation into the Trump campaign has already produced many indictments of — and criminal confessions from — Trump campaign members.
• The president has urged world leaders to call him on his easily hackable personal phone, over the objections of cybersecurity experts, because doing so is "convenient." (It seems hard to square this behavior with Trump's insistence that violations of IT protocol are such a serious offense, only a conspiracy can explain why the Justice Department did not prosecute Hillary Clinton for committing one with her personal email server.)
On the other hand, the Justice Department report released Thursday does include this exchange of text messages between FBI agent Peter Strzok, who worked on the Clinton and Russia investigations, and FBI lawyer Lisa Page (the first text is from Page, the latter, from Strzok:
"[Trump's] not ever going to become president, right? Right?!"




"No. No he won't. We'll stop it."
Now, Strzok says that the text message was "was intended to reassure Page that Trump would not be elected, not to suggest that he would do something to impact the investigation." And the broader DOJ report finds no evidence that Strzok did anything to undermine the integrity of the Clinton investigation. In fact, as James Comey notes in a New York Times op-ed on the report, the inspector general's report affirms the FBI's conclusion that Clinton's actions weren't prosecutable. FBI agents are allowed to have political opinions and partisan allegiances. And, to state the obvious, the FBI did not stop Trump from becoming president; in fact, there is significant evidence that bureau aided in his election.
Finally, the report concludes that Comey's decision to publicly announce the discovery of new Clinton emails in October 2016 — a development that correlated with a drop in Clinton's poll numbers — was an inappropriate act of insubordination. (It also, ironically, finds that Comey repeatedly conducted official FBI business from his personal Gmail account, in violation of protocol.)
Given this set of facts, the most important detail from the DOJ's report — the one that will give Americans the most accurate overall sense of how the president's claims align with reality if they see it spotlighted in headlines — is clear:
Remember: The mainstream media's liberal bias is "why Trump won."