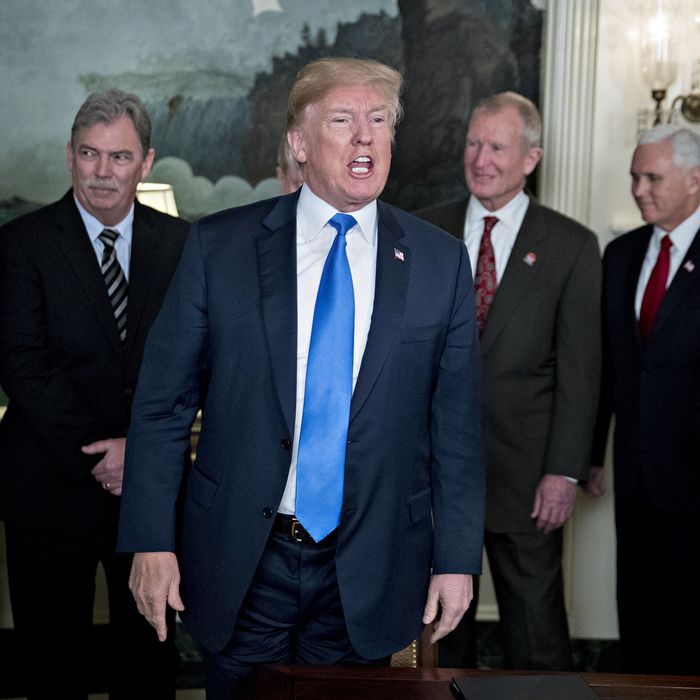 Trade war – what is it good for?
Photo: Andrew Harrer/Bloomberg via Getty Images
Last year, the United States bought a little over $505 billion worth of Chinese goods. Donald Trump is now threatening to slap tariffs on $450 billion worth.
And the markets are unnerved. Less than 24 hours after the president dramatically escalated his trade war with China, the Dow Jones Industrial Average tumbled more than 300 points in early trading Tuesday, wiping out all of the index's gains for 2018. The S&P 500 and Nasdaq each dipped by nearly one percent.
The drop partially reflects traders' misplaced confidence that a major trade conflict between Washington and Beijing had been averted — or at least, indefinitely postponed. In late May, Treasury Secretary Steve Mnuchin had announced that the administration's trade actions against China were on hold, while negotiations proceeded. And those negotiations appeared to be going well — for Beijing, anyway. Trump agreed to end a ban on the sale of U.S. parts to Chinese telecommunications firm ZTE, while celebrating China's offer to increase its importation of American farm products as a major trade victory.
But Stateside, these developments suffered a chilly reception. Congress scorned Trump's amnesty for ZTE; the press revealed that China had already been planning to increase its intake of American agriculture before negotiations with the White House had even begun; and the White House's China hawks pushed the president to chart a tougher course.
Last Friday, he did just that, announcing that the U.S. would impose a 25 percent duty on $50 billion of Chinese goods this year, with tariffs on $34 billion worth going into effect as soon as July 6. One day later, Beijing announced that it would meet Trump's tariffs, tit for tat: come July 6, China would apply a 25 percent duty to $34 billion of American exports, including soybeans, whiskey, orange juice, electric cars, salmon, and cigars.
The White House was not pleased. On Monday night, Trump vowed that the U.S. would respond to such retaliation by placing a 10 percent tariff on an additional $200 billion of Chinese goods — unless Beijing retaliated even further, in which case, that figure would rise to $400 billion.
"China apparently has no intention of changing its unfair practices related to the acquisition of American intellectual property and technology," the president said in a statement. "Rather than altering those practices, it is now threatening United States companies, workers, and farmers who have done nothing wrong."
Trump has argued that it would be easy for America to win a trade war with the Chinese, since nations with trade deficits have an inherent advantage in such conflicts. His latest move appears to reflect that logic: China cannot mount a reciprocal response to tariffs on $200 billion worth of its goods, since the country only imported $130.4 billion of American products last year.
But just because Beijing can't retaliate reciprocally, doesn't mean it can't hit back proportionately: China can still disrupt U.S. supply chains by freezing activities at select ports, or decline to approve acquisitions sought by American companies.
Further, China's command economy provides Xi Jinping with plenty of tools for insulating his citizens from price increases — while the nation's authoritarian political system insulates him from any popular backlash that modest price hikes might produce.
By contrast, Trump's supporters in agricultural areas are already bristling at his protectionism. And although the White House shielded ordinary consumers from the impact of its initial round of tariffs — by concentrating the duties on advanced industrial inputs and technology — there is no way to tax $250 billion worth of Chinese products without driving up retail prices for American shoppers.
Given how public and bitter the confrontation has become, experts expect that both leaders will feel politically obliged to avoid any gesture that looks like surrender. What's more, unlike Trump's other trade spats, there are (arguably) real national interests at stake in his showdown with China. By most accounts, Beijing has made a routine practice of stealing American intellectual property — as part of its broader "Made in China 2025" project, which aims to position China as a dominant force in the high-tech industries of the future. Which is to say: Beijing is using violations of international trade rules in a bid to reshape the global economy in a manner that will weaken the West relative to China.
One can imagine a rational (nationalist) case for America to accept short-term economic pain for the sake of averting Chinese economic dominance in the long run. But it is harder to produce a rational argument for the United States to simultaneously alienate all of its potential allies in a showdown with China by slapping tariffs on their steel exports.