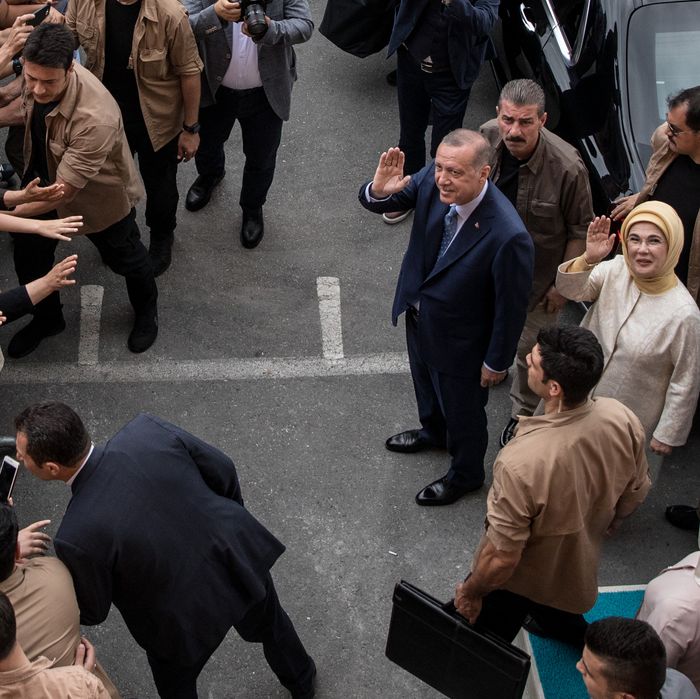 Erdoğan waves at his adoring masses.
Photo: Chris McGrath/Getty Images
Recep Tayyip Erdoğan, the long-running leader of Turkey who has ruled in increasingly authoritarian fashion over the last several years, won reelection on Sunday. In addition to extending his time in office, he's gained broad new powers under the country's new constitution, on top of his already considerable authority.
Official results showed Erdoğan with 53 percent of the vote, surpassing the 50 percent he needs to avoid a runoff. The results pegged turnout at a remarkable 87 percent.
But Erdoğan's opposition did not immediately accept those numbers. The president's prime challenger, Muharrem Ince, who had warned his supporters of possible fraud, initially held off on conceding, and Bülent Tezcan, the vice-chairman of the Republican People's Party, which opposes Erdoğan, said the president's celebration was premature.
"No one should start to cheer," Tezcan said. "The presidential election is certainly going to a second round. We will count the votes right through until the morning."
But hours later both Tezcan and Ince conceded.
With the vast power he has amassed during his 15-year run as prime minister and then president, Erdoğan was able to direct the machinery of the state to effectively campaign for him. Erdoğan called for the vote well before its scheduled date in November 2019, despite a struggling Turkish economy that is his primary vulnerability.
A new constitution, narrowly approved in a 2017 referendum, grants the president additional powers. Now Erdoğan's will be able to run for possibly two more terms, possibly extending his rule past 2030. The constitution also decreases Parliament's power, among other measures.
Erdoğan had slowly but surely drifted toward a nationalist, Euro-skeptical governing style, eschewing the moderation he showed in the early years of his tenure. But after a failed coup attempt in 2016, the illiberal trend accelerated. Erdoğan carried out a wide-ranging purge of large swathes of Turkish society he alleged had plotted against him, like journalists, police officers, and academics.
Parliamentary elections were also held on Sunday, with Erdoğan's AK Party leading the vote with 42 percent, according to the official results. In a milestone, a pro-Kurdish group, HDP, gained the 10 percent of the vote needed for representation in Parliament. The Kurds could prove important in forming a governing coalition, though Erdogan's party is expected to hang on to its majority.