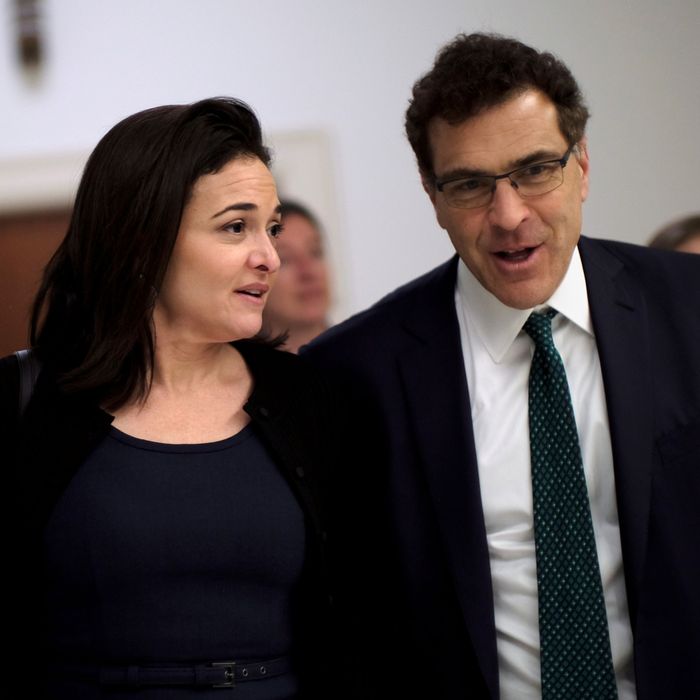 Sheryl Sandberg and Elliot Schrage.
Photo: James Lawler Duggan/REUTERS
Elliot Schrage, the executive leading Facebook's policy and communications efforts and one of the longest-serving and most powerful figures at the company, is leaving his job, according to Recode. Having worked for the company for more than a decade Schrage was a key member of Mark Zuckerberg's inner circle, helping make decisions alongside him and COO Sheryl Sandberg. Although Schrage is stepping down, he'll continue to serve as an adviser to them, so presumably he'll retain as much influence without having to do as much of the hard work.
"Leading policy and communications for hyper growth technology companies is a joy — but it's also intense and leaves little room for much else," he wrote on Facebook. "Mark, Sheryl and I have been discussing this for a while."
Luckily, Schrage is going out on top, leaving Facebook with an unblemished record and sterling reputation. Sorry, my keyboard must have malfunctioned. I meant to say that Schrage leaves Facebook as an embattled company that continues to struggle with and often actively declines to communicate openly and honestly with its billions of users, even as the company gets hammered for not properly safeguarding user data and having arbitrary and opaque content guidelines. Schrage has reportedly pushed the company to, per Recode, "be more open with outsiders and came up with the idea for Facebook's 'Hard Questions' blog series."
"From our earliest days (remember the launch of News Feed? Photo tagging?), our innovations have been greeted with an understandable mix of enthusiasm and concern. As our community and global impact expanded, our challenge to strike a healthy balance has become more urgent and essential," he also wrote. "I've enjoyed and appreciated the opportunity to help meet that challenge." To be clear, given the overwhelming number of scandals the company has encountered over the past year and a half, he and Facebook did not meet that challenge.