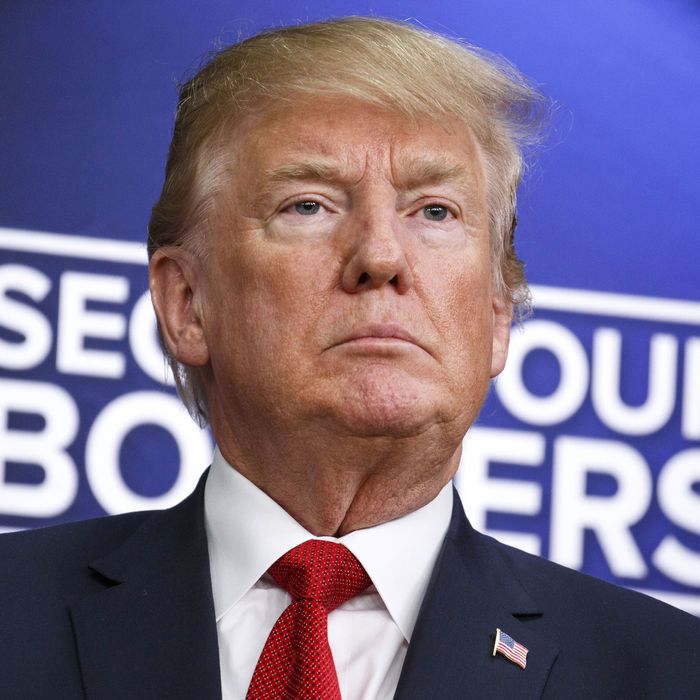 Is Trump just impervious to falloff from his most disastrous policies?
Photo: Joshua Roberts/Bloomberg via Getty Images
One of the abiding problems in covering the political career of Donald J. Trump is his frequent ability to do and say things that would be politically deadly for other politicians without suffering the same kind of consequences. Perhaps he cannot actually "stand in the middle of Fifth Avenue and shoot somebody" and not lose any votes, as he once boasted. But he's still relatively impervious to swings in popularity, given the constant fuel he gives to controversy.
We are at another point when we may find out exactly how impervious he is to reactions against his words and policies. Last week's family separation crisis at the border was intensively covered in every news medium; the story's reach went far beyond consumers of political news, arousing heavy and mostly negative commentary from celebrities of all sorts and a wide range of religious figures; and also featured pretty extreme examples of the Trump administration's signature traits of belligerence, confusion, and willingness to constantly shift policies and rationales for them. But as Jonathan Bernstein points out at Bloomberg, so far there's no clear sign the saga has affected Trump's approval ratings:
We're now more than a week into heavy coverage of Donald Trump's policy of separating migrant families — but it's already hard to argue that the backlash has dented the president's approval ratings.




As I write this, FiveThirtyEight estimates Trump enjoys an approval rating of 42.5 percent — a bit higher than in early June, and basically the best since his brief — and historically bad — honeymoon after taking office.




The polling aggregators at RealClearPolitics and HuffPollster tell a similar story. If you cherry-pick the estimate you use (or, even worse, use a single poll instead of polling averages) you might be able to tell a story of dwindling approval. But, looking at all the data, I think it's just as easy to say the story has helped him.
To be clear, limited polling on family separations shows a strongly condemnatory climate of opinion among Democrats and independents, and less than overwhelming support from Republicans. But so far it's not having much of an impact on overall opinions of the president.
As Bernstein notes, sometimes it takes a while for megastories like this to sink in. And it's also possible negative perceptions of the administration's conduct on immigration are being offset by lingering good feelings over the North Korea summit or the economy.
But just as likely, what we are seeing here are the chronically polarized opinions of Trump that appear to abide no matter what's going on. The explanations of that phenomenon, of course, are legion: (1) it's a product of partisan polarization that has reached historic dimensions; (2) Trump has debased expectations of presidential performance so systematically as to numb the public to anything new he does; (3) Trump's supporters "take him seriously but not literally" and thus discount his lies and flip-flops on this as every other subject; (4) Trump has succeeded in undermining the credibility of his media critics to such an extent that nearly half the public won't believe any negative information about him, or (5) Trump is creating opposition of an unprecedented intensity, but its breadth is not that overwhelming.
If you are shocked that the president's popularity is not taking a beating from the horrific sights and sounds from the border, this reminder from Jamelle Bouie is timely:
On the other hand, in November 2016 Trump was a historically unpopular presidential nominee pursuing that same widely unpopular agenda, featuring a harsh law-and-order policy toward people trying to enter the country without documentation. He managed to get himself elected, and despite the strong precedent for believing his party will do poorly in November, it's hard to be too certain about this strange man and the strange things he is doing to our political discourse.