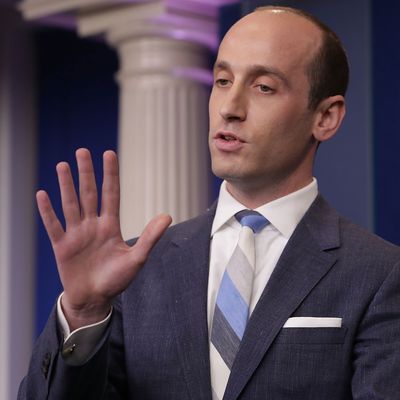 Trump immigration adviser Stephen Miller has a lot more nasty initiatives in mind to send a big midterm message to Trump's base.
Photo: Chip Somodevilla/Getty Images
No matter how the Trump administration's "zero tolerance" border-enforcement initiative plays out — and at the moment the optics are looking mighty bad — it's just the beginning. According to Politico, domestic policy adviser and speechwriter Stephen Miller, the principal keeper of the nativist flame for Trump, has been heading up an effort to plan a whole series of steps to keep "the base" assured that the 45th president is going to restrict legal and illegal immigration alike by hook or by crook:
Senior policy adviser Stephen Miller and a team of officials from the Justice Department, Department of Labor, Department of Homeland Security, and the Office of Management and Budget have been quietly meeting for months to find ways to use executive authority and under-the-radar rule changes to strengthen hard-line U.S. immigration policies, according to interviews with half a dozen current and former administration officials and Republicans close to the White House.
The big idea is to ensure that Trump doesn't have to depend on any immigration legislation, or any big policy goal like the border wall, to claim he's kept his promises to the base. The offensive Miller is planning involves things the administration can do on its own.
Among the fresh ideas being circulated: tightening rules on student visas and exchange programs; limiting visas for temporary agricultural workers; making it harder for legal immigrants who have applied for any welfare programs to obtain residency; and collecting biometric data from visitors from certain countries.
And yes, the midterm base-stimulus plan included "zero tolerance," and a pending DHS rule that would lead to the rescinding of the 1997 court settlement placing a limit on how migrant children can be locked up, which the administration thinks is the real source of its current troubles. So if Team Trump moves ahead on this front, they do have some additional plans beyond defending the indefensible.
The main thing to understand is that the White House did not blunder into the current furor over "zero tolerance" and family separation; the president's people really, really want to send signals that Trump has turned immigration policy on its head even without congressional cooperation.
Miller, who was instrumental to Trump's early travel ban — which, like the border separations, triggered widespread public outrage and was put into effect without sufficient logistical planning — is among those who see the border crisis as a winning campaign issue.




"That is the fundamental political contrast and political debate that is unfolding right now," he said in an interview with Breitbart News published on May 24. "The Democratic Party is at grave risk of completely marginalizing itself from the American voters by continuing to lean into its absolutist anti-enforcement positions."
So don't be surprised to learn that no matter what Trump decides to do on "zero tolerance," he's by no means going to shy away from the impression that he believes undocumented immigrants are enemies of America who must be repelled.