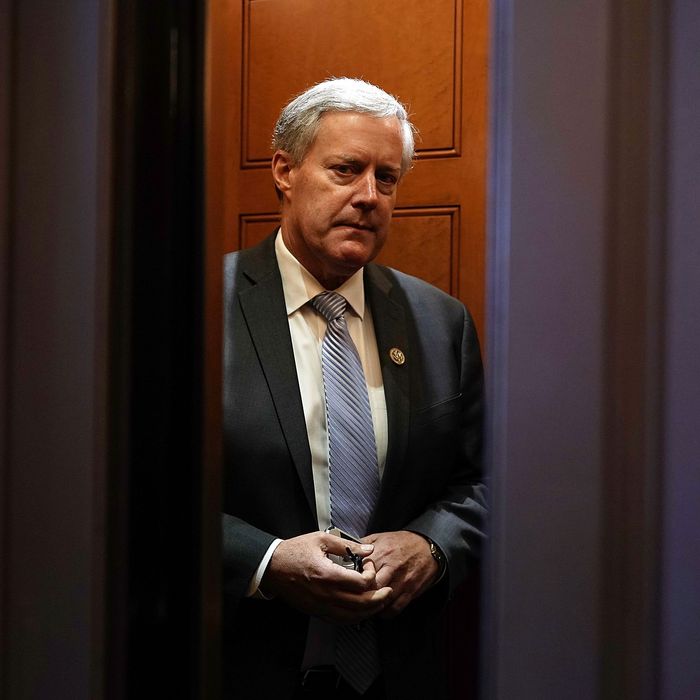 House Freedom Caucus chairman Mark Meadows has opened the door for another vote on the farm bill.
Photo: Alex Wong/Getty Images
Remember how the 2018 farm bill got derailed in the House last month, in part over an unrelated immigration dispute? Well, the final day for reconsideration of that negative floor vote on the bill in its current form is Friday. And with the House now poised to hold a Thursday vote on the hard-core Goodlatte immigration measure that the farm bill was held hostage to in May, at least one major obstacle to the Big Ag reauthorization has been removed. The House may vote on the farm bill the very same day.
According to Politico, Mark Meadows, one of the chief obstructors of the farm bill in May, is not only getting out of the way but is trying to round up votes among conservatives who think the bill is too expensive:
Freedom Caucus Chairman Mark Meadows said late Tuesday night that he thinks he'll be able to deliver enough Freedom Caucus votes to guarantee passage of the farm bill when it's taken up for a second time.
But there could be a catch, since Meadows also said he had a "few" remaining issues with the bill, reflecting his interest in "limiting subsidy payments to farmers." Farm bills are like huge balls of yarn: pull one string and the whole thing can quickly come unraveled. Some moderate House Republicans are unhappy with the bill's funding cuts and enhanced work requirements for SNAP (food stamps) recipients, which have alienated virtually all Democrats.
Further down the road, even if the House passes the farm bill, a collision with the Senate is certain; the upper chamber (where the bill was reported from the Agriculture Committee last week on a 20-1 vote) has pursued a bipartisan approach which largely rejected the lower chamber's partisan determination to mess with SNAP. Existing programs expire on September 30, but temporary extensions have in the past been common. It will be a big step for the whole effort if a bill can sneak out of the House this week.