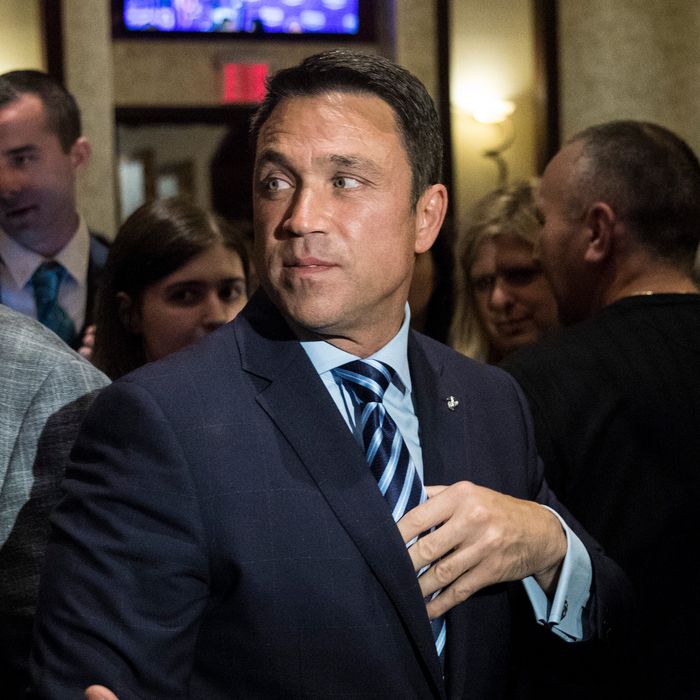 Michael Grimm talks with supporters after conceding on June 26, 2018.
Photo: Drew Angerer/Getty Images
In a battle over which candidate is the most Trump-like, GOP primary voters in Staten Island went with the guy who isn't a convicted felon. Michael Grimm, who resigned from Congress in 2015 after pleading guilty to tax evasion, was hoping for a chance to reclaim his old seat on Tuesday night, but he was easily defeated by Representative Dan Donovan. With all precincts in New York's 11th Congressional District reporting, Donovan took 64 percent of the vote to Grimm's 36 percent.
Grimm was elected in the tea party wave of 2010, and he attacked Donovan for some high-profile breaks with President Trump, including votes against the repeal of Obamacare, Trump's tax cuts, and a bill penalizing "sanctuary cities." He also framed his conviction as the result of a "witch hunt" perpetrated by the Obama Justice Department. And as David Freedlander noted, forcing a felon on the GOP establishment seems like the kind of thing that might fly in 2018:
There is nothing about Donovan that screams, "Own the Libs." Grimm, meanwhile, is a the perfect man for a moment when Republican primary voters rally around candidates not despite the fact that they act in ways no decent person should, but because of it. 
But as it turns out, Trump voters cared more about the president's (factually incorrect) Donovan endorsement:
And it seems they weren't bothered by Donovan's breaks with the president. As Slate notes, they were all typical of a New York Republican, and Grimm often voted against GOP leaders when he represented the district:
They were all, however, rather obvious votes for a member from New York City. The health care bill's assault on Medicaid would have been objectively bad for Staten Island, the tax bill's revenue-raisers were targeted squarely at high-tax municipalities within high-tax blue states, and penalizing "sanctuary cities" would mean losing federal grant dollars for New York City. 
Grimm's loss is good news for the GOP establishment, as running the guy who famously threatened to "break" NY1 reporter Michael Scotto "like a boy" could make the district more competitive in November. Donovan will now face Max Rose, an Army veteran who easily won the Democratic primary on Tuesday. The Cook Political Report currently rates the race as "lean Republican."
Some Grimm supporters did not take his loss well:
But the candidate urged them to do what Trump would like them to do in November: Vote Dan Donovan.