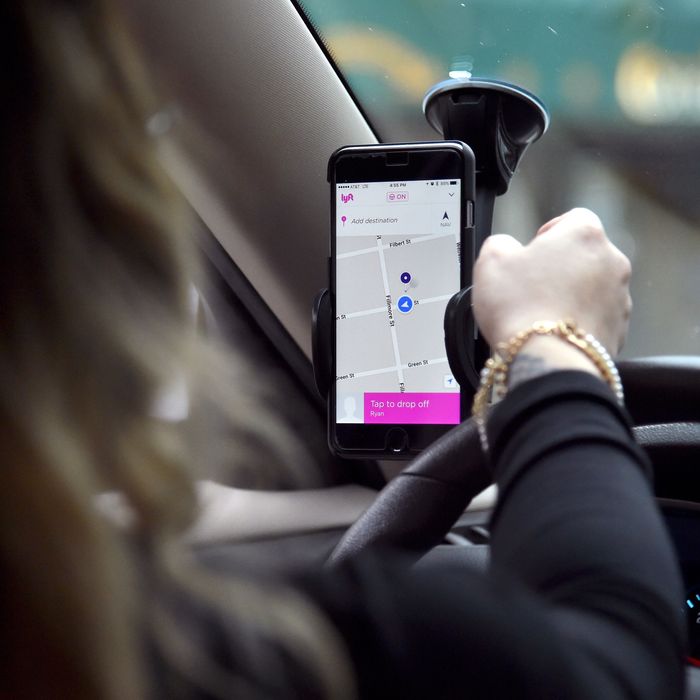 Maybe rideshare drivers aren't the wave of the immediate future after all.
Photo: Mike Coppola/Getty Images for Lyft
We all know that the "gig economy" — in which people can't count on regular pay — is the new paradigm. With thriving new companies like Uber and Lyft and a long-term trend in which employers seek to classify employees as "independent contractors" to minimize pay and benefit rules, the remaking of the job market is here. Right?
Well, maybe not so fast, according to new Labor Department data, as reported by The Wall Street Journal's Eric Morath:
The Labor Department's Bureau of Labor Statistics released on Thursday its survey of contingent and alternative workers for the first time in 13 years. It showed the fraction of workers employed as independent contractors was 6.9% in May 2017, down from 7.4% in February 2005, the last time the survey was taken. The broadest measure of the share of workers who are contingent—meaning they don't expect their jobs to last more than an additional year—was 3.8% last year, down from 4.1% in 2005.
Whoa. That sounds so, so old school. And there has been some head-scratching among economists:
"It's a little surprising that things haven't changed more," said Lucas Puente, economist at Thumbtack, a San Francisco company with an app that connects professionals such as graphic artists and personal trainers to gigs. "That was counter to what I was expecting."




However, Mr. Puente's analysis of the Labor data showed a large increase in such contractors working in transportation—think Lyft drivers—and professional and business services, which would capture many on platforms like Thumbtack. Use of independent contractors fell sharply in construction, retail and finance.
So maybe the radical transformation has been confined to one sector. But if that is the case, maybe that sector doesn't necessarily foretell where the entire economy is going.
We have been here before, of course. During the 1990s as e-c0mmerce emerged we were often led to believe it was a deadly threat to brick-and-mortar retailers. But it wasn't — until it was, years later. Now there are all sorts of hybrid models for retailing out there that combine online and in-person shopping experiences. So maybe corporate America is already adapting to the inevitable backlash to the "gig economy," or maybe the terrible things associated with the "gig economy" are still unfolding.
The bottom line is to look at the data for economic trends before getting too caught up in the "narratives." And beyond that, there is an abiding moral argument to make against the "gig economy" — whether or not it is taking over the economy.