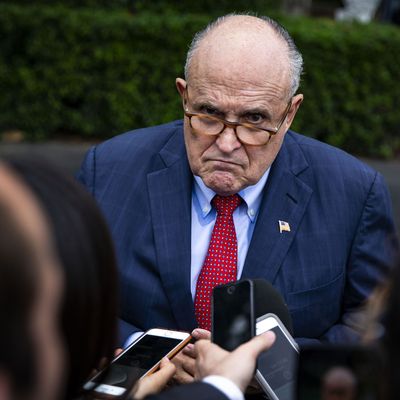 Beg your pardon?
Photo: Al Drago/Bloomberg via Getty Images
Back in March, the New York Times reported that the president's former attorney John Dowd had (ostensibly) attempted to dissuade Trump's former campaign manager Paul Manafort — and his onetime national security adviser Michael Flynn — from cooperating with federal investigators, by informing their lawyers that the president was prepared to pardon them.
At best, this gesture suggested that Trump believed they knew things that he did not wish federal investigators to learn. At worst, in the view of some legal scholars, it was a prosecutable act of obstruction of justice.
Unsurprisingly, Dowd vigorously denied the Times' report.
"There were no discussions. Period," Dowd told the paper. "As far as I know, no discussions."
But March was a more innocent time. How young we were then; how naïve. Now, the president's attorney does not restrict his pardon offers to back channels, nor feel compelled to deny such unseemly machinations in public. There's no time for such pretensions in June 2018. This morning, the president's former campaign manager was sent to jail for allegedly committing a crime while he was awaiting trial for a variety of other crimes. This afternoon, Trump's longtime "fixer" Michael Cohen — a man who helped broker multiple real-estate deals between the Trump Organization and alleged money-launderers overseas — leaked word that he was open to cooperating with federal investigators. Hours later, the New York Daily News asked the leader of the free world's lawyer to comment on the state of the special counsel's investigation; he did not beat around the bush.
"When the whole thing is over, things might get cleaned up with some presidential pardons," the former New York mayor told the paper. (Trump's ability to "clean up" Manafort's crimes may be somewhat limited, as many of the most serious charges against him could be brought at the state level, where his pardon powers do not reach.)
Giuliani went on to say that he did not "understand the justification" for putting Manafort in jail for the "crime" of (allegedly) tampering with witnesses."You put a guy in jail if he's trying to kill witnesses, not just talking to witnesses," the former federal prosecutor explained.
Finally, just to make sure that his contempt for the investigation — and interest in seeing it stymied by radical means — was perfectly clear, Giuliani added, "That kind of investigation should not go forward. It's time for Justice to investigate the investigators."