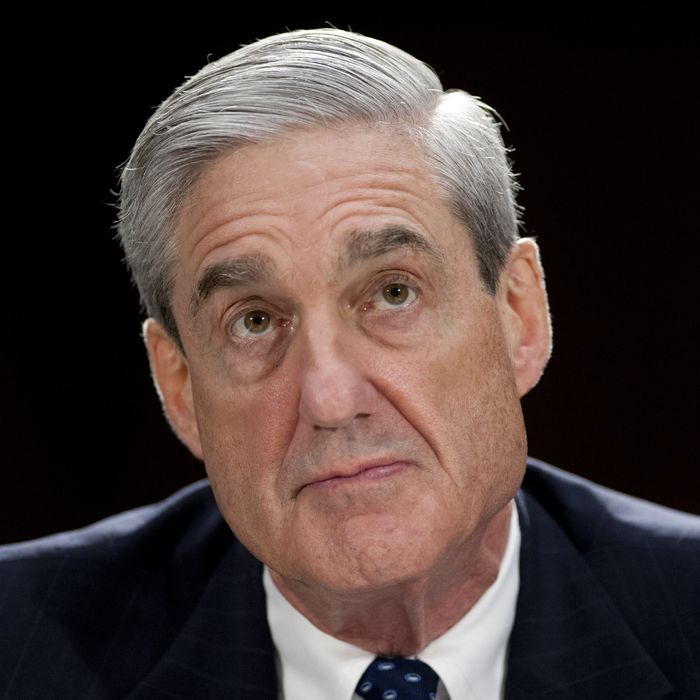 The Clinton probe wasn't tainted, so clearly the Russia probe has to go.
Photo: SAUL LOEB/AFP/Getty Images
Republicans have been eager to get their hands on the inspector general's report on the Justice Department's handling of the Hillary Clinton email probe for weeks. President Trump tweeted earlier this month that it was taking too long to come out, claiming he was antsy because "the public has the right to know. Transparency!" But on the eve of the report's release, both his son and his lawyer were on Fox News, setting up the administration's narrative. Donald Trump Jr. said the FBI's "credibility is shot," and Rudy Giuliani said the IG report could "blow up" Robert Mueller's investigation by tarnishing FBI officials and key witnesses.
Like many GOP efforts to discredit the special counsel, it didn't go exactly as Republicans hoped. Inspector General Michael Horowitz's main finding was that there's no evidence that political bias affected the FBI's handling of the Clinton probe, or that she should have been prosecuted.
"We found no evidence that the conclusions by department prosecutors were affected by bias or other improper considerations," he wrote. "Rather, we concluded that they were based on the prosecutor's assessment of facts, the law and past department practice."
Horowitz did, however, criticize former FBI director James Comey for deviating from department policy in publicly discussing the probe — which may have unintentionally hurt Clinton. He also rebuked FBI officials Lisa Page and Peter Strzok for disparaging Trump in private messages, which they sent on FBI devices. But Horowitz said investigators "did not find documentary or testimonial evidence directly connecting the political views these employees expressed in their text messages and instant messages to the investigative decisions we reviewed."
Despite the conclusion that the FBI's investigation was not influenced by political bias, and the fact that Horowitz wasn't even looking at the Mueller probe, Trump and his allies proceeded with their plan to declare that the IG report proves the special counsel's investigation should be shut down
Their attack had two prongs: undermining Comey's credibility, and suggesting that the Trump-Russia probe was biased from the start. White House press secretary Sarah Huckabee Sanders said the report "reaffirmed the president's suspicions about Comey's conduct and about the political bias of some members of the FBI."
And why should Comey's conduct reflect poorly on the man who replaced him? Sam Nunberg, a former Trump campaign adviser, told the New York Times:
Any report which critiques former senior F.B.I. employees of both Robert Mueller and James Comey and are being used by Mueller as prime witnesses against President Trump is inherently a winner for the president … The I.G. report continues the delegitimization of the entire Mueller investigation, which is ultimately the fruit of the poisonous and disgruntled James Comey.
On Fox News, Giuliani and Sean Hannity tackled the broader theme of anti-Trump bias at the FBI, cherrypicking details from the IG report to make their case, while simultaneously suggesting that Horowitz can't be trusted because he didn't conclude that Clinton should have been prosecuted.
"Mueller should suspend his investigation, and he should go see Rod Rosenstein, who created him, and the deputy attorney general and Attorney General Sessions, who should now step up big time to save his department," Giuliani said.
"Rosenstein and Jeff Sessions have a chance to redeem themselves and that chance comes about tomorrow," Giuliani continued. "It doesn't go beyond tomorrow. Tomorrow, Mueller should be suspended and honest people should be brought in, impartial people to investigate these people like Peter Strzok. Strzok should be in jail by the end of next week."
(Giuliani explained that this investigation should be conducted by "honest FBI agents from the New York office who I can trust implicitly." The IG report contained details that support the rumor that the New York office was a major source of anti-Clinton leaks.)
Giuliani also cited what Republicans consider the most significant line in the IG report. In response to Page asking, "[Trump's] not ever going to become president, right? Right?!" Strzok texted, "No. No he won't. We'll stop it."
The pair told Horowitz that "we'll stop it" meant Trump wouldn't be elected, not that they would personally stop him — and they cited as evidence the fact that they didn't reveal that Trump was under investigation or do anything else to prevent him from becoming president. The report still rebuked them, saying the line "implies a willingness to take official action to impact the presidential candidate's electoral prospects" even if they didn't do it.
In addition to the Clinton email probe, Strzok played a major role in the investigation into the Trump campaign and Russia. He was initially assigned to Mueller's investigation, which started in May 2017, but he was removed in July 2017, immediately after the anti-Trump texts came to light.
Nevertheless, multiple Republican lawmakers argued on Wednesday that Strzok's involvement in the early days of the Trump-Russia investigation, and the few weeks he spent on Mueller's team, call the whole operation into question. Majority Whip Steve Scalise said the latest "evidence of bias" gives "credence to people who wonder if this is becoming a witch hunt." Representative Mark Meadows declared "the Mueller investigation must be reassessed in light of today's information."
Others hewed more closely to Giuliani's argument. Representative Matt Gaetz claimed the IG report provided "smoking-gun evidence that the Mueller probe is built on a rotten foundation." Representative Andy Biggs said the investigation "should be dismantled immediately."
Representative John Ratcliffe said that now we can't trust any negative findings that may emerge about the president.
"The inspector general provides a factual basis to question the legitimacy of any findings against Donald Trump, if there are findings against Donald Trump," he said. "Trump-Russia collusion — we now find out that for the first nine months, the investigation was headed by the guy who hated Donald Trump, said he would stop him from becoming president."
To reach that conclusion, you have to ignore the major findings in the IG report — and the FBI's bias against a candidate who was actually prevented from becoming president.