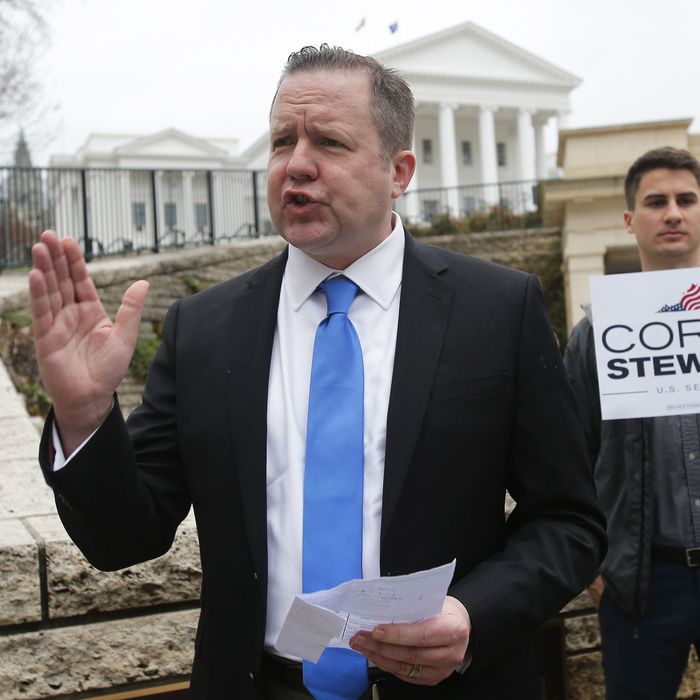 Virginia Senate candidate Corey Stewart, one of the wild men running a Trump-like campaign this year.
Photo: Steve Helber/AP/REX/Shutterstock
Five states are holding primaries on Tuesday, June 12. While it's not as big a canvas as last week's eight-state election spectacular, there are plenty of interesting things going on: several highly competitive open-seat House primaries, a "ranked choice" voting experiment in Maine, and competitive gubernatorial primaries in Maine, South Carolina, and Nevada.
If there is a prevailing theme for the Republicans, it is probably the continuing stampede of their candidates to bask in the greater glory of Donald J. Trump. Indeed, in several races, Trumpite appeals are competing with the pre-Trump "I'm so conservative it's crazy" brand of messaging, though the two approaches are beginning to converge.
Here's a state-by-state rundown of the primaries and what is at stake:
Virginia
One state where all sorts of ancient bedrock Republican traditions have been washed away by GOP Trump-o-mania has been the Commonwealth of Virginia, where county commissioner Corey Stewart, who was once too Trump-y for Trump's own presidential campaign, is the odds-on favorite to win the U.S. Senate nomination to take on Crooked Hillary's running mate, Tim Kaine. Stewart, who was fired as Trump's Virginia campaign manager late in the 2016 campaign for involvement in an unauthorized pro-Trump protest at the RNC HQ in Washington, ran for governor last year on a defiant platform of defending the Commonwealth's Confederate heritage, and very nearly upset the overwhelming favorite Ed Gillespie. He became the instant Senate front-runner practically the next day.
But what's even more remarkable is that Stewart's GOP rivals are as nutty as he is. One is Christian right warhorse E.W. Jackson, who was the GOP candidate for lieutenant governor against Ralph Northam in 2013, and lost pretty badly after various bizarre pronouncements, notably one that suggested yoga leads to Satanism. Another is state legislator Nick Freitas, who in March blamed mass shootings on legalized abortion and "the welfare state." He's the "moderate" in the race. Enough said.
There are two competitive House districts in Virginia with lively Democratic primaries. The best known is the suburban/exurban Tenth Congressional District, mostly centered in Loudon County, which Hillary Clinton carried by nearly ten points. Six viable Democrats are fighting for the opportunity to take on very vulnerable Republican incumbent Barbara Comstock. State senator Jennifer Wexton, who's been endorsed by Governor Northam and by the Washington Post, is the favorite. But she's been outspent by self-funder and former Obama State Department official Alison Friedman, and two other candidates, Lindsey Davis Stover and VoteVets favorite Dan Helmer (who has gotten attention for one of the most abrasive anti-Trump ads of the year), have spent heavily, too.
In the north-central Virginia Seventh District, a much simpler Democratic primary is on tap for the right to face ultraconservative Representative Dave Brat in a district Trump did carry, but perhaps by not enough of a margin to protect the hard-right incumbent (best known as the slayer of Eric Cantor in the 2014 primary). Former CIA operative Abigail Spanberger is being backed by EMILY's List and a lot of state legislators, while retired Marine Dan Ward claims an ability to reach swing voters in rural areas.
South Carolina
There are three significant contests in the Palmetto State that will test whether pre-Trump strains of conservatism have survived his hostile takeover of the GOP. The most straightforward is in Low Country First Congressional District, where former governor and now-representative Mark Sanford is facing a strong primary challenge from state legislator Katie Arrington. The only substantive issue is Arrington's claim that Sanford has been insufficiently servile toward the president. But she hasn't been shy about alluding to the scandal that nearly destroyed Sanford's gubernatorial tenure:
Arrington's supporters are also plastering Sanford's yard signs with "Appalachian Trail" stickers. He's spending heavily in an effort to survive.
In the gubernatorial race, incumbent Henry McMaster (who inherited the spot when Nikki Haley became Ambassador to the United Nations), is the Trump-endorsed candidate. That makes sense because McMaster was the highest-ranking SC official to endorse Trump in the 2016 primary. But he's facing several primary opponents, including the two vying to make it into a probable runoff with him, and both of whom are following a different template than just Trump Trump Trump. Catherine Templeton (whom Trump interviewed for a Labor secretary gig) is very much running as a Haley clone, an effort aided by the fact that Haley appointed her to two top-level jobs in her administration. She is probably best known for being Haley's union-hating Labor department director, and is criticizing her opponents (especially McMaster) as ex-Dixiecrat good ol' boys just like Haley did when she won the governorship in 2010. Meanwhile, there's an "outsider conservative" candidate in John Warren, who's been picking up right-wing endorsements and spending a lot of his own money.
Additionally, there's an absolute free-for-all going on in the Fourth District GOP primary in the upstate part of South Carolina, where 13 candidates are vying for the nomination to succeed retiring Representative Trey Gowdy. Direct Trump connections are boasted by two candidates, including Pastor Mark Burns, who led prayers at many Trump rallies in 2016 (he has the slight problem of not living in the district) and Trump upstate campaign director in 2016, James Epley. Meanwhile, the Club for Growth has run ads attacking two other candidates, William Timmons and Dan Hamilton, for the kind of unfavorable comments about Trump that many conservatives made in 2016, and their own candidate, radio gabber Josh Kimbrell, has taken heat for his own 2016 anti-Trump remarks. The only sure thing about that race is a runoff.
On the Democratic side there is some national interest in the Fifth District primary, where Archie Parnell, who nearly won a 2017 special election in this heavily GOP area, has refused to withdraw despite admitted domestic-violence incidents. His primary opponents are obscure, but presumably have cleaner histories. Republicans figure the district is a lock in November.
Nevada
FiveThirtyEight calls the Democratic gubernatorial primary in Nevada a "true ideological referendum," featuring two Clark County (Las Vegas) commissioners, self-described centrist Steve Sisolak (backed by Harry Reid's organization) and self-styled progressive Chris Giunchigliani (backed by the statewide teachers unions and EMILY's List). A late poll shows a dead heat. It's gotten rather bitter, and the Clark County teachers union Giunchigliani once led has actually endorsed Sisolak. On the Republican side, the state Attorney General with a famous name, Adam Laxalt, is favored over State Treasurer Dan Schwartz.
The Trump Factor rears its ugly head again in the GOP primary in the Third Congressional District, whose incumbent, Democrat Jacky Rosen, is running against vulnerable GOP Senator Dean Heller. Trump endorsed semi-perennial candidate and basketball scion Danny Tarkanian in this race, mainly to get him out of what was then a Senate primary against Heller. Tark is facing state legislator Scott Hammond and former TV reporter Michelle Mortensen, who are considered better general-election prospects.
In Nevada's Fourth District, Democratic incumbent Ruben Kihuen was knocked out of a reelection bid by a sexual-harassment allegation. His two predecessors, Republican Cresent Hardy and Democrat Steven Horsford, are the favorites to win their parties' nominations.
Maine
Maine will have the distinction of holding a primary that is getting more attention for its voting methodology than for the contests that methodology will decide. For the first and perhaps the only time (there is a ballot referendum and a pending constitutional amendment that will determine the system Maine uses in the future), Maine will deploy "ranked choice" (a.k.a. "instant runoff") voting, which could most definitely change the outcome of races in favor of lower finishers with broader secondary support. It is very difficult to know how that will affect the gubernatorial and congressional primaries this year, though it's worth knowing that term-limited Republican Governor Paul LePage has fought like hell to prevent any state money being spent to promote understanding of ranked-choice voting, which he bitterly opposes (quite certainly because he failed to win a majority in either of his gubernatorial runs). Another complicating factor is Maine's system of voluntary public campaign financing, which has helped several candidates stay in races otherwise dominated by those with fatter wallets.
In the Democratic gubernatorial primary, the front-runner has been Attorney General Janet Mills, with former House speaker Mark Eves, State Senator Mark Dion, and clean-energy entrepreneur Adam Cote (who has been running ads against Mills, who has reciprocated) in the running. Among Republicans, LePage's de facto protege businessman Shawn Moody has dominated the field, though former Health Commissioner (and LePage ally in fighting Medicaid expansion) Mary Mayhew, and state senate leader Garrett Mason have run viable campaigns.
A Survey USA poll and simulation of the ranked-choice system (which eliminates the lowest finisher and reassigns her/his vote to their supporters' second choice until someone has a majority) last month showed Mills and Moody both finishing first and winning the ranked-choice votes as well.
All the GOP gubernatorial candidates would continue LePage's fight against the Medicaid expansion that Maine voters approved last year, and all the Democrats would implement the expansion.
Maine Democrats also have a robust primary in the Second Congressional District to choose an opponent for Republican Representative Bruce Poliquin. Businessman Lucas St. Clair and state legislator Jared Golden are the two principal candidates, though supporters of a third candidate, bookseller Craig Olson, could matter a lot through their ranked-choice votes.
North Dakota
North Dakota also has a primary on June 12, but in the marquee race, Representative Kevin Cramer is certain to win the Senate nomination to take on vulnerable Democratic incumbent Heidi Heitkamp. The fireworks there will become intense around Labor Day.