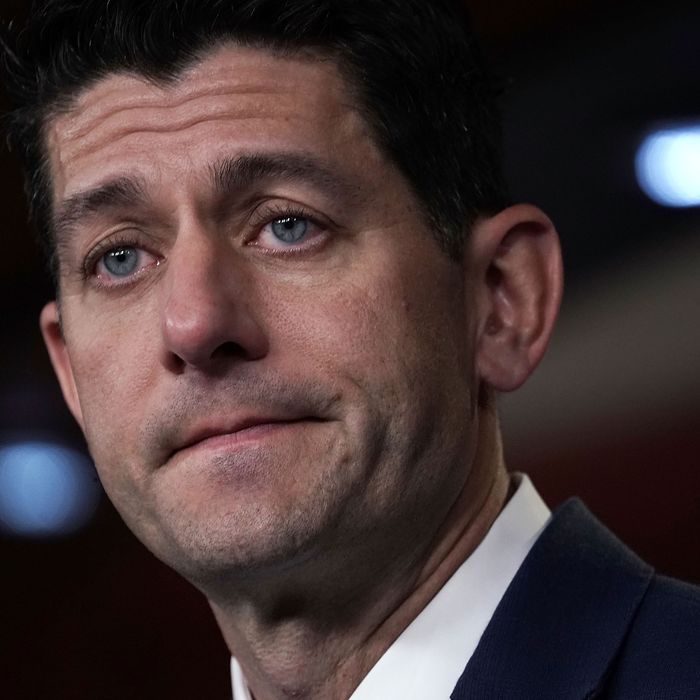 Poor Paul.
Photo: Alex Wong/Getty Images
North Carolina Republican representative Mark Walker took a shot at Paul Ryan on Twitter Thursday, then deleted it. Not before eagle-eyed congressional reporter Matt Fuller took a screenshot though.
In the tweet, Walker tagged Wisconsin governor Scott Walker, suggesting they switch jobs following a nameplate mix-up at a event. He added that he's not a fan of one member of the Wisconsin House delegation though: "cough: @SpeakerRyan."
Walker's communications director tweeted that his boss's wise crack was a joke and his choice to @ Ryan in the tweet supports that theory.
Then again, the tweet was deleted, which makes one wonder. And if Walker did say something he regrets, it wouldn't be the first time. Last September at a press conference with the conservative Republican Study Committee, he referred to the female members of the caucus as "eye candy."
If the swipe Walker took was sincere, that would make two Republican congressmen who've gone after the House speaker this week. On Wednesday, Representative Mark Meadows "unloaded" on Ryan on the House floor.