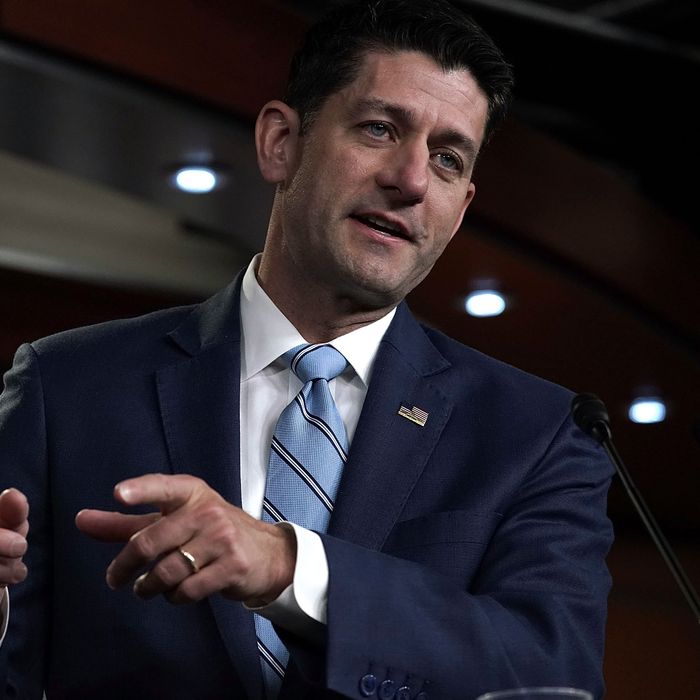 Catch you later, unresolved immigration crisis.
Photo: Alex Wong/Getty Images
In recent weeks, GOP moderates launched an effort to see if they could boss their party around, just like the conservative House Freedom Caucus. While they managed to give the Republican leadership a scare, on Tuesday their effort to force a vote on bipartisan Dreamer bills flopped when they came two signatures short on a discharge position.
Instead, Speaker Paul Ryan announced late on Tuesday that the House will vote next week on two Republican bills that address the fate of young undocumented immigrants: a conservative bill authored by Representative Bob Goodlatte — which provides only temporary legal status for Dreamers, along with cuts to legal immigration and border security measures — and another bill that would include a pathway to citizenship, but is otherwise TBD.
"Members across the Republican Conference have negotiated directly and in good faith with each other for several weeks, and as a result, the House will consider two bills next week that will avert the discharge petition and resolve the border security and immigration issues," said Ryan spokesperson AshLee Strong.
Due to a procedural deadline, the discharge position had to be activated on Tuesday to get a vote this month on an immigration measure backed by all Democrats and some moderate Republicans. They could try to force a vote again next month, but it would likely have even less support.
Since President Trump announced last fall that he would end the Deferred Action for Childhood Arrivals program, Republicans have been searching for an immigration bill they can all live with, to no avail. The Goodlatte bill is too conservative to pass the House, let alone the Senate. While Representative Carlos Curbelo, who filed the discharge petition, called Ryan's pledge to vote on a second bill a "major development," it's unclear if any of his fellow moderates will support it.
With no discharge petition, there's less pressure on Republicans to hold a divisive immigration vote five months before an election — something GOP leaders were desperate to avoid. Some GOP moderates argued it was politically risky to leave the issue unresolved heading into the midterms (not to mention unfair to Dreamers), but since court injunctions kept DACA alive for the time being, there's been far less urgency around the issue in Congress.
After a weeklong immigration debate in February, the Senate failed to pass any legislation. Republican Senator Jeff Flake, a central figure in the push to protect DACA recipients, said there's little point to the House passing GOP-only immigration bills. "If it's anything like what was part of the Goodlatte bill, that's just not going to fly," he said.