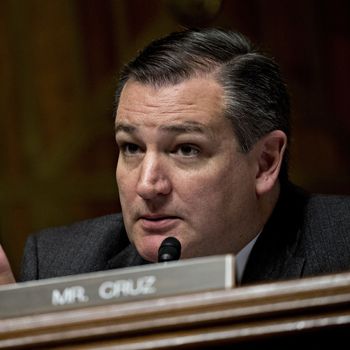 Senator Ted Cruz is not ready to accept that climate change is science.
Photo: Andrew Harrer/Bloomberg via Getty Images
Four Republican senators are calling for an investigation of the National Science Foundation over a program that educates meteorologists on climate change, saying it "is not science — it is propagandizing."
Senators Ted Cruz, Rand Paul, James Lankford, and Jim Inhofe all signed a letter asking the National Science Foundation's inspector general to investigate the $4 million that the agency has given to New Jersey–based nonprofit Climate Central. At issue is the group's Climate Matters program, which seeks to spread information about climate change to local TV stations. In the six years since the program's launch, it has reached around 500 meteorologists, a group once found to be more skeptical than the general public of climate change, with classes and webinars on the science of the warming planet. According to NBC News, the program is changing minds:
So far, the efforts have paid off. The number of stories on global warming by television weather people has increased 15-fold over five years, according to data from the Center for Climate Change Communication at George Mason University. If the trend continues this year, there will be more than a thousand stories that touch on climate delivered during local TV weathercasts, up from just 55 such climate stories in 2012.
But the senators argue that spreading facts about climate change amounts to an attempt to "influence political and social debate."
Climate Central CEO Ben Strauss brushed off the criticism, telling NBC News, "Climate Central is not an advocacy organization, and the scientific consensus on climate change is not a political viewpoint."
Strauss's point seems obvious, but there's nothing obvious about climate change to many Republicans, who have become more skeptical than ever about climate change since electing a president who thinks it's a "hoax."