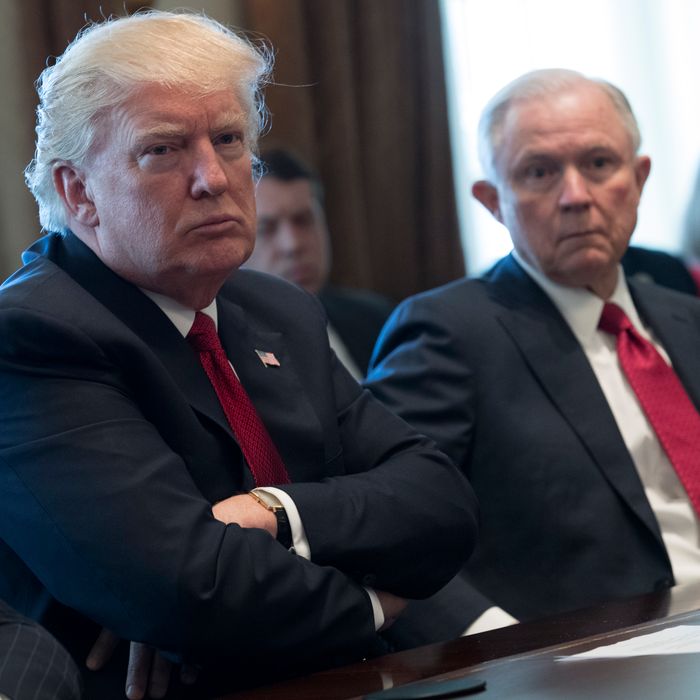 Compassionate conservatives.
Photo: Pool/Getty Images
The Washington Post reported on Saturday that a Honduran man committed suicide in May after being separated from his wife and 3-year-old son, in a stark reminder of the emotional toll exacted by the Trump administration's unprecedented policy of dividing families at the U.S.-Mexico border.
Marco Antonio Muñoz, 39, was found on May 13 in his Texas jail cell, "in a pool of blood with an item of clothing twisted around his neck." The Department of Homeland Security did not announce his death. The Post learned of it through a local sheriff's report, which characterized it as a "suicide in custody." The paper was unable to obtain an autopsy report, or a comment from authorities.
But the Post reports that, according to "Border Patrol agents with detailed knowledge of what occurred," Muñoz was apprehended in a small Texas town by U.S. authorities, after crossing the border illegally with his family on May 13.
Soon after Muñoz and his family were taken into custody, they arrived at a processing station in nearby McAllen and said they wanted to apply for asylum. Border Patrol agents told the family they would be separated. That's when Muñoz "lost it," according to one agent, speaking on condition of anonymity to discuss the incident.
"The guy lost his s—," the agent said. "They had to use physical force to take the child out of his hands."
Muñoz was placed in a chain-link detention cell, but he began punching the metal and shaking it violently, agents said.
According to the agents, Muñoz had to be restrained during his ride to the jail. He attempted to escape once he arrived, before being placed in the padded cell where he ended his life. His wife and son were later released from custody.
It is impossible to draw a straight line between one traumatic event in a person's life and that person's decision to kill themselves. And, especially given Munoz's erratic behavior, it would be unwise to do so in this case. But at the very least, the incident highlights — in bright red — the psychological devastation the Trump administration is sanctioning on a daily basis.
Reuters reported on Friday that nearly 1,800 children were separated from their parents at the border between the end of 2016 and February. That was months before Attorney General Jeff Sessions announced family separation as official U.S. policy. In recent weeks, the pace of children being taken from parents has shot up dramatically.
When he announced the new policy, Sessions also vowed to prosecute every immigrant who crosses the border illegally, including those who seek asylum once they've entered the country, rather than presenting themselves at established border checkpoints. (The administration is also making that process difficult.)
Sessions has defended the harsh legal approach, as well as the strategy of separating families, as a deterrent for would-be border-crossers.
I do think it's clear, it's legitimate to warn people who come to the country unlawfully bringing children with them that they can't expect that they'll always be kept together," he told conservative radio host Hugh Hewitt this week.
But if it really is a deterrent, it hasn't yet shown to be an effective one. In May, for the third straight month, authorities arrested more than 50,000 people who had crossed the border illegally. The May total more than tripled the number from April 2017, which saw the fewest arrests since the Department of Homeland Security's creation in 2003 — a downswing attributed to President Trump's tough immigration rhetoric.
This week, 40 Senate Democrats signed a letter calling for an end to the family separation policy, calling it "frighteningly callous."
Though he has endorsed it behind closed doors, Trump continues to hold Democrats responsible for his own draconian policy.