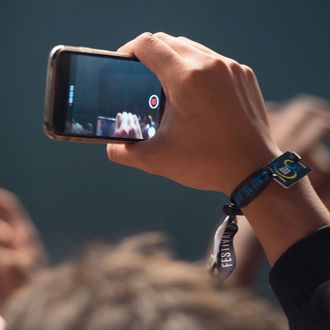 Photo: Ollie Millington/Redferns
Back in May, Instagram announced a feature that would let you mute your friends. Which could definitely come in handy if this week's report that the platform is toying with changing its video time limit from one minute to one hour. Sources told The Wall Street Journal that Instagram has also reportedly been talking with influencers and creators about making long-form content specifically for the platform.
From WSJ:
The feature, which could allow videos of up to an hour in length, will focus on vertical video, or video that is taller than it is wide, one of the people said. Until now, Instagram hasn't allowed users to post any videos longer than one minute. The people said the plans are tentative and subject to change.
If Instagram's plans actually pan out, this could be the platform's moment to pry users away from YouTube. A recent Pew survey found that teens are over Facebook — which, friendly reminder, owns Instagram — and prefer Instagram, Snapchat, and YouTube. Over 80 percent of teens said they used YouTube, with 72 percent saying they used Instagram. Which means Instagram is doing fine with the teen set, sure, but if they could offer the same kinds of creator-made content that teens are heading to YouTube for — hello, Paul Brothers — they could do even better. And what platform doesn't want to do better with the teens.