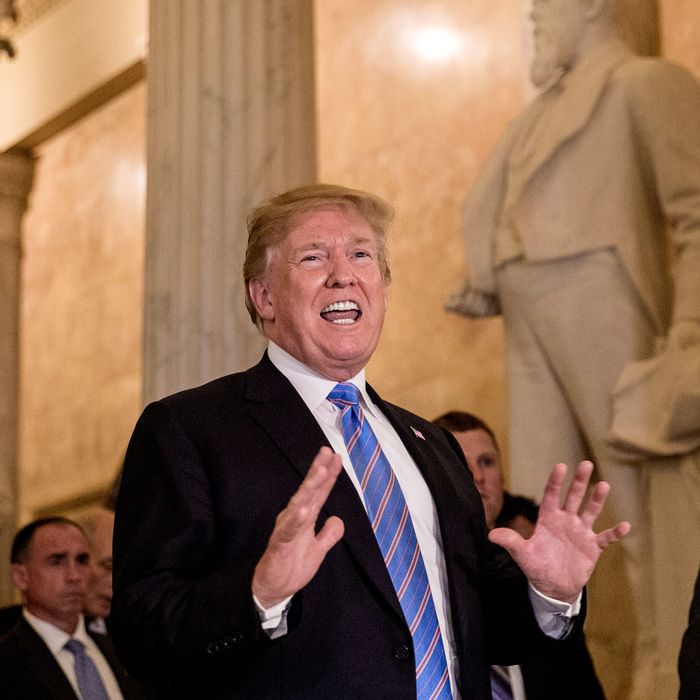 Trump can't bring himself to resolve the border crisis his administration deliberately caused.
Photo: Alex Wroblewski/Getty Images
Usually, one of the good things about having an authoritarian-minded president is that, when necessary, decisions can be made quickly. But with Donald J. Trump, any impulse he has to exercise power can easily be overcome by his extreme reluctance to admit mistakes or back down even when his course of action has proved disastrous.
That's what seems to be happening right now with respect to the "family separation" crisis the administration has engineered via the Justice Department's "zero tolerance" policy, which Jeff Sessions announced in May.
Two things are very clear: first, the sights and sounds of crying children and infants in cage-like border facilities are going to damage Trump and his party politically if they persist. And second, Trump (or the Justice Department) could end the crisis instantly by reversing Sessions's May order. Yes, that would leave some big issues with border enforcement hanging fire, but from a political standpoint the bleeding would stop, and Trump would be in a stronger position to demand broader immigration legislation.
But a combination of incoherence and stubbornness seems to have paralyzed the administration on this topic. The incoherence was most evident on Monday when the daily White House presser was serially delayed while DHS Secretary Kirstjen Nielsen and Trump staffers struggled behind closed doors to get their story straight on family separation. It's still unclear whether the official line is that family separation is a wise policy designed to deter illegal border crossings or a tragic but unavoidable byproduct of immigration laws or a proudly humanitarian way to provide "summer camp" with video games and soccer for kids whose parents are bad, bad people.
The stubborn refusal so far to act decisively in this crisis, though, can all be placed at the feet of POTUS, as this report from Axios illustrates:
A senior administration official, after Axios asked whether Trump thinks the family separation issue is a political winner because it makes him look "hardcore" on the border:




"Not at all. He's doing it to press the case with Congress. He's moved personally, but also doesn't want to look weak. He feels boxed in, is frustrated and knows it's bad politics — but also understands it's not a fight he can back down from."




"This isn't a political play at all. There are easier ways to pick fights on immigration or better cultural issues."
In other words, Trump can't bring himself to move from his position that only Congress can fix the family separation problem — which no one else in Washington shares — and for that matter, has not yet signaled he would accept narrowly cast legislation to end family separation without a broader deal that gets him his precious border wall and legal immigration restrictions.
That became evident at last night's presidential meeting with House Republicans, intended strictly to provide guidance to the members on immigration policy. Trump seemed loath even to talk about immigration, but when he finally did, he stuck to the line that Congress needs to pass comprehensive immigration legislation — like one of the two bills the House will vote on later this week. These bills will probably be voted down by the House, and if not, are dead on arrival in the Senate, where Democratic votes would be necessary. Trump did not even mention the possibility of narrow legislation to deal with family separation, much less broach the idea of ending the crisis by rescinding Sessions's order. So as House leaders scrounge around for entirely meaningless votes on doomed pieces of legislation, the border crisis festers.
It now looks like Senate Republicans may make the first move toward ending family separations legislatively, as The Hill reports:
Senate Republicans on Tuesday moved to end a political crisis inflicted on the party by President Trump by voicing support for an immigration bill that would end the separation of children from their parents and guardians at the border.




Senate Majority Leader Mitch McConnell (R-Ky.) said Republicans need to fix the problem through legislation, and that the fix should be narrowly tailored.
But at this point Senate Democrats, who keep pointing out that Trump could fix the problem with a stroke of a pen, aren't onboard; parallel efforts in the House can't go anywhere until Republicans finish up their votes on the two broader immigration bills; and worst of all, the White House hasn't blessed any particular strategy. And every day that goes without action the outrage over this issue grows. It's no longer an exaggeration to say that this could become "Trump's Katrina."
Maybe the president will quickly snap out of his torpor and either tell Jeff Sessions to fix his mess or jump onto the Senate GOP's bid to stop the carnage. There's one report this morning that Trump would support Congress forcing him to abandon his own policy, and another suggesting he is "considering" some sort of temporary executive action to keep children with their detained parents. There is also this report:
But having drifted into this disaster by way of an effort to prove to the Republican base once and for all that he was willing to get tough on the border, it won't be easy for Trump to execute a strategic retreat.