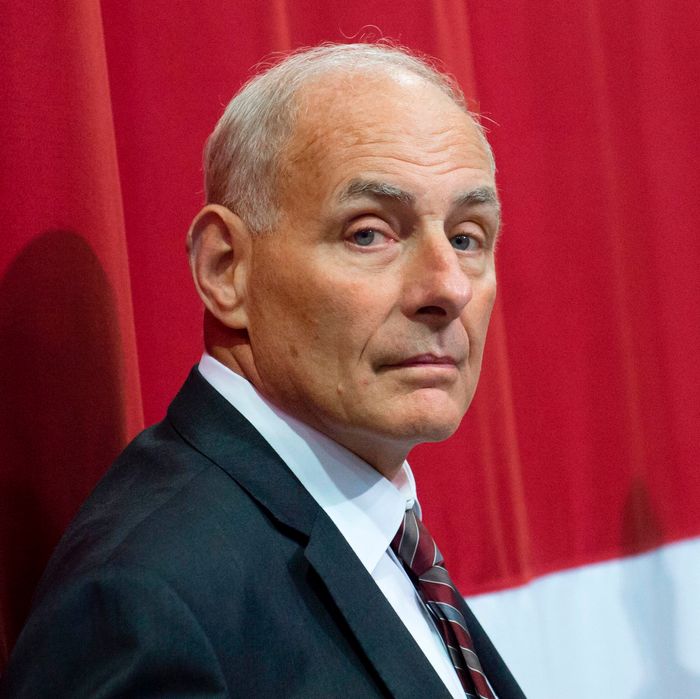 God, or Trump, is ready to punish someone else.
Photo: SAUL LOEB/AFP/Getty Images
Several months ago, we started hearing rumors that White House Chief of Staff John Kelly was ready to step down. That was followed by reports that Kelly "blew up" at Trump this spring, regularly called him an "idiot" behind closed doors, and had decided he may as well let Trump do what he wants, "even if it leads to impeachment" because then "at least this chapter of American history would come to a close." Kelly even lamented publicly that he would have liked to continue serving as secretary of Homeland Security, "but I did something wrong and God punished me, I guess."
Kelly is still here, so all reports about his impending retirement should be taken with a grain of salt. But The Wall Street Journal got pretty specific on Thursday, saying that the chief of staff is planning to step down "as early as this summer, possibly soon," and Trump has started interviewing potential replacements.
The two front-runners, according to the Journal, are Nick Ayers, Vice-President Mike Pence's chief of staff, and Mick Mulvaney, who heads the Office of Management and Budget and is acting director of the Consumer Financial Protection Bureau. Ayers, 35, is close to Trump's son-in-law/adviser Jared Kushner, and would add a "savvy and seasoned political tactician" to Trump's team, as Politico put it. Mulvaney won Trump's praise when he successfully pushed his tax cuts through Congress last winter. Trump reportedly discussed the position with Mulvaney over dinner on Wednesday.
Luckily for Mulvaney, the chief of staff position might not keep him from his two other day jobs. One person close to the White House told the Journal that Kelly wants to go because he feels Trump no longer listens to him, and he doesn't think the president even wants a chief of staff.
Since March, Trump's allies have been pushing the idea that he may go without a chief of staff when Kelly departs. In March, fired Trump strategist Steve Bannon said that rather than another chief of staff, "I think there will be five or six direct reports like there was in Trump Tower." Corey Lewandowski, Trump's former campaign manager, agreed that Kelly wouldn't be replaced by a single person, saying he sees Trump "as the hub with a number of spokes coming out."
Bannon reiterated this point to the Journal on Thursday, saying, "It's been very obvious for the last four or five months that President Trump has run the White House with an organizational structure that has left Kelly in a ceremonial position." Bannon claimed that has "coincided with some of his greatest accomplishments on trade, North Korea, and the economy." He predicted that if Trump does name a successor to Kelly, the position will be ceremonial.
It's possible Bannon's aim was to make sure rumors of Kelly's exit actually result in his departure this time. Politico reported:
People in the building who want Kelly out, said a third Republican close to Trump, are calling former Trump staffers, "making sure that they are helping get this expedited."
White House spokesperson Lindsay Walters said Trump called the Journal piece "fake news," and Kelly "said this was news to him."
But it does seem likely that Kelly won't be in the White House much longer — partly because he's told colleagues he doesn't plan to stay on past his first anniversary in the job, which is July 31, and partly because it seems everyone at the top of the Trump administration is eyeing the exits.