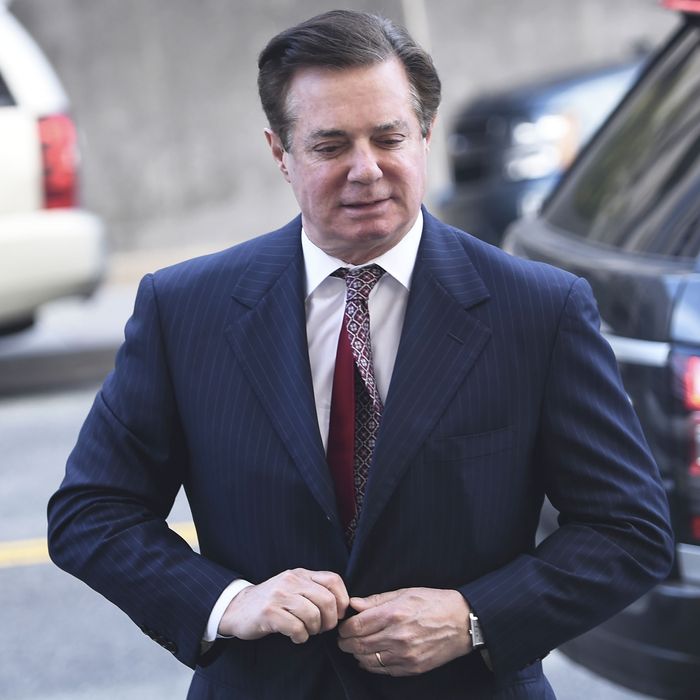 Paul Manafort to trade in his pinstripes for bright orange.
Photo: Brendan Smialowski/AFP/Getty Images
A federal judge on Friday revoked the house arrest of former Trump campaign manager Paul Manafort, sending him to jail as he awaits trial for a litany of changes, including bank fraud and money laundering.
The decision from U.S. District Judge Amy Berman Jackson comes after Special Counsel Robert Mueller filed new charges against Manafort last Friday for witness tampering. "I cannot turn a blind eye to this allegation," Berman told a packed courtroom.
The key question surrounding the jailing of Manafort is whether it will cause him to stop fighting the charges leveled by Mueller and instead go to work for the special counsel. There's been endless speculation about why Manafort hasn't yet flipped and told Mueller everything he knows about suspected Russian collusion in the 2016 election. One leading theory is that he's hopeful President Trump will pardon him.
That seems somewhat less likely Friday morning after Trump, when asked about Manafort, essentially said, "Who?"
"Manafort has nothing to do with our campaign," Trump said of the man who ensured he received the GOP nomination. "You know, Paul Manafort worked for me for a very short period of time. He worked for Ronald Reagan. He worked for Bob Dole. He worked for John McCain, or his firm did. He worked for many other Republicans. He worked for me, what, 49 days or something. Very short period of time."