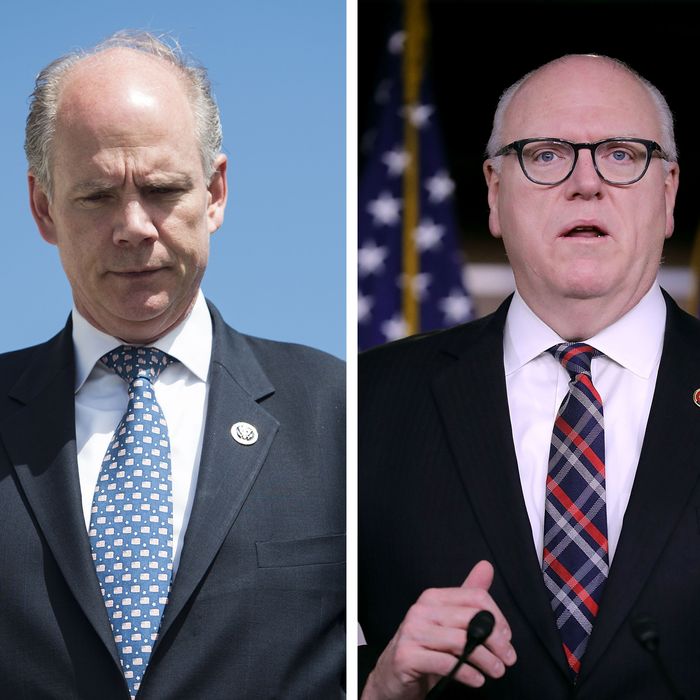 Republican Representative Dan Donovan and Democratic Representative Joe Crowley are both facing tough challenges in the June 26 New York primary.
Photo: Bill Clark/CQ; Chip Somodevilla/Getty Images
An assortment of U.S. House races in New York and gubernatorial primaries in Colorado, Maryland, Oklahoma, and South Carolina highlight a busy June 26 primary day. The contests will mostly set up competitive general-election matches, but some incumbents could lose in their own party primaries as well. Here's a state-by-state overview:
New York
The Empire State has a rare split primary calendar in which party-nomination contests for federal offices are on June 26, with state and local nominations being decided on September 13 (the result of a 2012 judicial decision holding that federal primaries were too late to allow for the mailing of overseas absentee ballots for the general election, followed by a legislative deadlock over when to hold a consolidated primary).
This year's congressional primaries in New York are especially active thanks to a host of Democratic candidates (34 all told) jostling for position to take on the state's nine Republican House members. But the two marquee races are primary challenges to incumbents in relatively safe districts. The one that has drawn the most attention is the GOP primary in the Staten Island/South Brooklyn 11th Congressional District, where ex-representative and convicted tax-evasion felon Michael Grimm is battling to reclaim his old House seat from his successor, Dan Donovan. Like a number of GOP House primaries in more conservative parts of the country, this is a fight between two candidates who both claim to be big Trump fans, with Donovan getting the actual Trump endorsement while Grimm (much like Alabama's Roy Moore or West Virginia's Don Blankenship) claims to be the favorite of the most intense Trumpites because of his extreme Trumpiness. Both candidates can boast of a recent poll showing them each with a narrow lead. Anything could happen, though the Trump endorsement could be Donovan's key to victory. Donovan would be a favorite in November but a Grimm primary win could make this district highly competitive in November, with DCCC-supported Max Rose the likely Democratic nominee.
The other New York incumbent who's in some peril is Representative Joe Crowley, who represents the 14th Congressional District in the east Bronx and north-central Queens. Crowley is chairman of the House Democratic Caucus, which makes him the third-ranking Democrat in the House. His 28-year-old challenger, Alexandria Ocasio-Cortez, has the advantages of a Puerto Rican background (the population of the district is nearly half Hispanic), a clear progressive profile (she was endorsed by gubernatorial candidate Cynthia Nixon), and a strong grassroots campaign. A Crowley loss would be a bit of a shocker, but it's not out of the question. The district won't be competitive in November.
According to the Cook Political Report, the two most vulnerable GOP-held House seats in New York are both held by freshman: John Faso of the Hudson Valley/Catskills–based 19th District, and Claudia Tenney from the central upstate-based 22nd District. The Democratic field to take on Faso is very broad, as Vox explains:
There are a bunch of viable candidates. Antonio Delgado is an attorney and Rhodes scholar raising a lot of money. Pat Ryan is running on a gun control message. Business executive Brian Flynn is putting a lot of his own money in the race. Gareth Rhodes is a former Andrew Cuomo staffer with the Times's endorsement. Minister Dave Clegg is a long-time community leader. You also have former diplomat and CIA officer Jeff Beals and Erin Collier, a former economist in the Obama administration and the only woman in this race. It's really wide open.
The district was carried twice by Obama and by Trump in 2016 by seven points. Faso voted to repeal Obamacare, but voted against the 2017 tax bill that eliminated unlimited sales and property-tax exemptions that are a big deal in this high-tax state.
Tenney voted for both the tax bill and Obamacare repeal, but benefits from a more heavily Republican district. Unlike Faso, she cannot count on Democratic divisions; highly reputed state legislator Anthony Brindisi is running unopposed for the Democratic nomination in the 22nd.
Cook rates two other New York House seats as potentially competitive. In the eastern Long Island–based First District, sophomore Representative Lee Zeldin (probably best known nationally for renewing the long tradition of Jewish Republicans in Congress after Eric Cantor's 2014 primary loss threatened to end it altogether) is another member from a district carried twice by Obama but then solidly by Trump. But a large group of Democrats filed to take him on, with self-funding businessman Perry Gershon and Irish immigrant Kate Browning being the front-runners. And in the Syracuse-based 24th District, another sophomore, John Katko, has a tougher district than Zeldin's; it was carried narrowly by Hillary Clinton in 2016. Katko took the unorthodox stance of voting for the tax bill but against the Obamacare repeal. The Democratic primary is basically a two-way battle between DCCC-backed Navy veteran Juanita Perez Williams and self-proclaimed progressive Dana Balter.
Democrats hope a wave environment will also give them a general-election opportunity against Second District veteran Representative Peter King (Democratic prospect Liuba Shirley has been endorsed both by EMILY's List and Our Revolution); 21st District Representative Elise Stefanik (a very large field of Democrats are competing to face her); and 23rd District veteran Representative Tom Reed (five Democrats are battling to take him on). At this point the incumbents in these districts are strong favorites.
New York is a closed-primary state (independents cannot participate in either party's nominating contests), with very little early voting.
Colorado
If New York is the classic old-school state with closed primaries and no early voting, Colorado is at the other extreme; independents are allowed to vote in either party's primary, and mail ballots are sent out to every registered voter (they can choose to mail them in or drop them off by Election Day at voting centers). The big race in Colorado involves both parties' gubernatorial nomination contests to choose a successor to term-limited Democratic incumbent John Hickenlooper.
By all accounts it's been a gubernatorial campaign with an unusually national tone, as Republicans vied to show support for the president and Democrats fought for the progressive mantle. As the Denver Post reported last week:
Both of last week's gubernatorial debates began with questions about President Donald Trump's border policies and the separation of children from immigrant families. A half an hour into the GOP debate, the candidates were still discussing their degree of support for Trump's policies and his statements that the media are the enemy of the American people.
The GOP front-runner, State Treasurer Walker Stapleton, and probably his most formidable rival, former state legislator Victor Mitchell, have been attacking each other for past sins against MAGA. On the Democratic side, U.S. Representative Jared Polis has the highest name ID and has also benefited from $11 million in self-funding. He has campaigned on "Medicare for all." But perhaps his most formidable rival, former state treasurer Cary Kennedy, has attached herself closely to the national teachers' protests that spread to Colorado in the spring, and would clearly represent a different kind of educational policy from those promoted by the charter-school-friendly Hickenlooper. Both parties' primary results could have national repercussions.
There's also a competitive House race in Colorado's Sixth District, where incumbent GOP Representative Mike Coffman is fighting for reelection in a district that has been trending blue and was carried by Clinton in 2016. National Democrats are backing Army veteran Jason Crow. But Levi Tillemann got a lot of attention for this ad promoting the use of pepper spray instead of firearms for self-protection, in which the candidate soaked himself with the painful substance:
Maryland
The very blue state of Maryland is holding an interesting Democratic gubernatorial primary in which several strong candidates are vying for the opportunity to take on a very popular Republican incumbent, Larry Hogan. In the first-quarter Morning Consult roundup of gubernatorial job-approval numbers, Hogan came in at a formidable 68/17. Still, the sheer partisan character of Maryland in a potential wave environment has produced a strong field for the Donkey Party, notably former NAACP president Ben Jealous, who boasts a strong Baltimore base and backing from Bernie Sanders, and Prince George's County chief executive Rushern Baker, whose base is in the D.C. suburbs and is being backed by former governor Martin O'Malley.
Oklahoma
The two prevailing political realities in Oklahoma as the primaries arrive are that outgoing GOP governor Mary Fallin is very unpopular, while the state remains profoundly conservative. There are some progressive stirrings in the state, particularly those surrounding the teachers' uprising that forced some serious concessions from Republican lawmakers. Democrats also made some gains in 2017 special elections in the state.
But most of the action is still on the GOP side in the gubernatorial race, with a runoff likely (Oklahoma requires majorities for party nominations) after a crowded primary dominated by Lieutenant Governor Todd Lamb, former Oklahoma City mayor Mick Cornett, and self-funding businessman Kevin Stitt, who is deploying the Trumpian "conservative outsider" meme. On the Democratic side former attorney general Drew Edmondson, the scion of a famous Oklahoma political family, is favored over former state senator Connie Johnson for the gubernatorial nod. Johnson became the first African-American woman to win a statewide major-party nomination in a 2014 U.S. Senate race.
The GOP nominee will be strongly favored to win in November.
South Carolina
Trump has heavily repaid a debt to then–lieutenant governor Henry McMaster, who was his first and most prominent South Carolina supporter when that state's primary looked to become a major opportunity to stop Trump in 2016 (Trump wound up winning the primary handily). McMaster then inherited the governor's office from Nikki Haley when she was appointed U.S. ambassador to the U.N. As an aging political warhorse, McMaster probably would have lost against a strong field of primary opponents this year had it not been for the Trump imprimatur.
As it is, on June 12 McMaster was knocked into a runoff against yet another of this year's many Trump clones: a rich "outsider conservative" named John Warren who upset Haley protégé and famed union-killer Catherine Templeton to finish second against the incumbent.
An upset is possible, but Trump's personal appearance for McMaster on the eve of the runoff will probably clinch it. Democrats nominated state legislator James Smith in the June 12 primary; he is a credible candidate, but will have an uphill battle in this very red state.
Utah
There is a GOP U.S. Senate primary that would produce the biggest shocker of the year should Mitt Romney lose to state legislator Mike Kennedy for the nomination to succeed Orrin Hatch. Kennedy did keep Romney from winning the nomination at the right-wing-dominated state party convention, but the idea that the first LDS major-party nominee for president would be spurned by Utah primary voters is about as preposterous as a Kennedy losing in Boston.