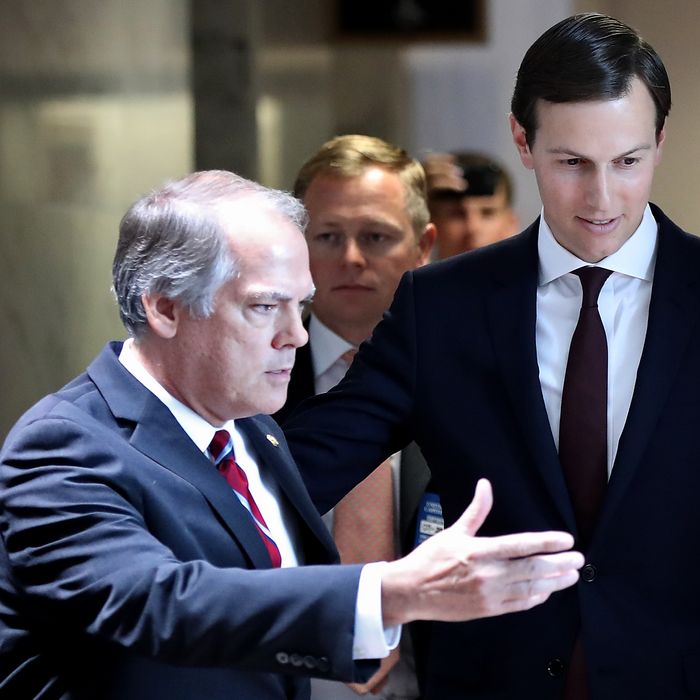 James Wolfe escorts Jared Kushner following his meeting with the Senate Select Committee on Intelligence on July 24, 2017.
Photo: Win McNamee/Getty Images
President Trump is notoriously obsessed with stopping leaks (unless he's doing the leaking) and now, in what may be a first for his administration, his Justice Department has seized a reporter's data as part of a leak investigation. James Wolfe, a former Senate Intelligence Committee staffer, was arrested on Thursday and indicted on charges of making false statements to the FBI in its probe of the illegal disclosure of classified information. As part of that investigation, the Justice Department obtained years of phone and email data from New York Times national security reporter Ali Watkins, though not the messages themselves.
Wolfe, who was head of security for the Senate Intelligence Committee for three decades, was responsible for protecting sensitive information shared with lawmakers on the committee. He retired last month.
Court documents allege that before he stopped working with the committee in December, Wolfe used encrypted messaging applications to contact three reporters, then lied repeatedly about those communications. He's also accused of lying about his relationship with Watkins when FBI agents asked him about the sources for an article she wrote. He initially denied knowing her, then when shown photos of them together, he admitted they had been in a three-year relationship.
Watkins denied that Wolfe was a source of classified information when they were dating, and says she disclosed the relationship to her editors at BuzzFeed News, Politico, and the New York Times at the time. It appears one focus of the FBI's probe was a BuzzFeed article published in April 2017 in which she reported that Russian spies tried to recruit former Trump adviser Carter Page in 2013.
The indictment also describes an incident in which Wolfe alerted another reporter in October 2017 that he had served Page with a subpoena to testify before the Senate Intelligence Committee. After the story ran, Wolfe allegedly texted the journalist "Good job!" and "I'm glad you got the scoop."
Wolfe is accused of using the same messaging app to serve as an unnamed source for a third reporter, and of communicating with a fourth reporter using his Senate email account from 2015 to 2017. He allegedly denied those contacts to federal agents.
Since seizing a journalist's records is so delicate — and potentially an intrusion on their First Amendment rights — there are special regulations the Justice Department must follow. Before obtaining records that could reveal a journalist's sources, investigators are required to have "made all reasonable attempts to obtain the information from alternative, non-media sources." They're also supposed to notify the reporter to give them a chance to negotiate or challenge the move, though the attorney general can waive this in extreme cases.
The Times reports that FBI agents initially approached Watkins to ask about her relationship with Wolfe, and said they were investigating illegal leaks. But she only learned that her records had been seized when she received a letter from the Justice Department in February. The records contained years of data on Watkins's communications, and some were even attached to her university email from when she was an undergraduate. It's unclear what, if any, efforts were made to obtain the information from other sources.
Ben Smith, BuzzFeed's editor-in-chief, said, "We're deeply troubled by what looks like a case of law enforcement interfering with a reporter's constitutional right to gather information about her own government."
Journalists previously raised alarms about the Obama administration's aggressive moves against reporters in leak investigations. Attorney General Jeff Sessions bragged last year that his DOJ was pursuing three times as many leak investigations as were open at the end of the Obama administration, but this is the first known instance of the Trump administration continuing those tactics against the press.