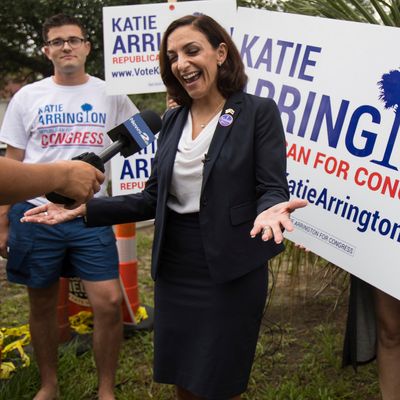 Katie Arrington.
Photo: By Kathryn Ziesig kziesig@postandcourier.com/AP
Katie Arrington, who recently defeated South Carolina Representative Mark Sanford in a closely watched Republican primary, was badly injured in a car accident on Friday night.
The AP reports that Arrington and a friend were in a vehicle driving south on U.S. Highway 17 in South Carolina when a car driving in the wrong direction struck them. The driver of the other car died at the scene.
Michael Mule, a spokesman for Arrington, said that she was recovering in a Charleston-area hospital. Arrington suffered a back fracture, broken ribs, and a partially collapsed artery in her leg, and required surgery to remove parts of her small intestine and colon. Mule said that Arrington would need further operations in the coming days, and that she would have to stay in the hospital for two weeks. She was, however, alert and speaking on Saturday morning. Arrington's Twitter account had a rundown of the accident and its aftermath.
The race between Arrington and Sanford was seen as a test of the Republican Party's fealty to President Trump. At the last minute, the president endorsed Arrington over Sanford, one of the few Republican lawmakers who has been openly critical of Trump's behavior. Arrington triumphed decisively in the June 12 primary.
On Saturday morning, Trump tweeted his support.
Arrington's Democratic opponent, Joe Cunningham, said that he would suspend campaigning following the accident.