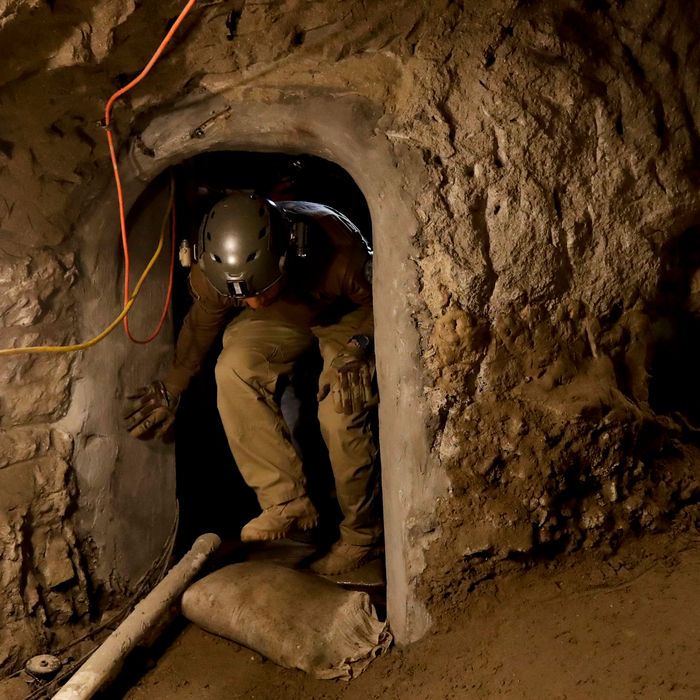 A tunnel between San Diego and Tijuana in 2017.
Photo: Gregory Bull/AP
On Friday, USA Today reported that soon after Attorney General Jeff Sessions announced his his "zero tolerance" border policy last month, federal prosecutors warned that the new directive meant that they were diverting resources from federal drug-smuggling cases. The message came in a May 18 email from a Justice Department supervisor in San Diego, who told border authorities that immigration "will occupy substantially more of our resources."
A spokeswoman for the U.S. attorney's office told USA Today that the Justice Department had supplied extra lawyers to the area, and that the number of prosecuted drug-smuggling cases was projected to go up this year. And the district attorney's office in San Diego said that such cases referred to them by border officials had indeed doubled in the last year.
But the paper reports that that more smuggling cases are being sent to local or state courts instead of being referred for federal prosecution, where sentences are often harsher. This trend may be directly connected to the DOJ's new set of priorities:
Sheppard's May 18 email warned Homeland Security officials that prosecutors would have fewer resources to deal with "reactive matters," a category that includes cases in which the Border Patrol catches someone smuggling drugs into the United States. From then on, he said, the Justice Department would agree to bring those cases to federal court only if agents had them wrapped up by 8:30 the next morning. To do that, he said, agents would need to have "finalized" reports signed by their supervisors, two copies of recordings of interviews with the suspect, two copies of surveillance video and a dump of the suspect's cellphone.
Though President Trump bowed to widespread outrage and ended the practice of separating parents and children at the border on Wednesday, he took pains to emphasize that the administration's zero tolerance directive remains in place. This means that anyone caught crossing into the United States is still subject to criminal prosecution, as Sessions announced in early May. Previously, those detained were often deported immediately, but not subject to charges.
The crackdown has already flooded courtrooms across the U.S.-Mexico border, which are now witness to previously rare mass trials of undocumented immigrants. Multiple accounts have painted a picture of an already overstretched bureaucracy under unprecedented strain. Even though most of the migrants who plead guilty will serve little to no additional time in jail after their time in court, the time and resources put into processing thousands of people is undoubtedly taking an administrative toll.
From the moment his campaign began, President Trump has been laser-focused on immigration, and specifically immigrant crime — despite the fact that that the border crossings are way down from their highs almost two decades ago, and that undocumented immigrants commit crimes at a significantly lower rate than native-born Americans.
It will take a long time to understand the extent to which his administration's single-mindedness on this issue has hindered enforcement elsewhere.