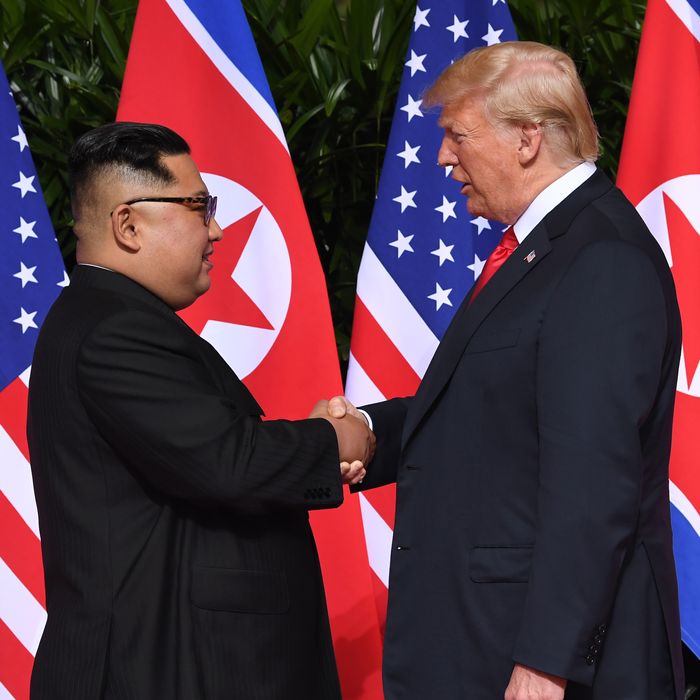 Kim and Trump.
Photo: SAUL LOEB/AFP/Getty Images
Just six months after trading threats about their respective "nuclear buttons," President Trump and North Korean leader Kim Jong-un met in Singapore on Tuesday morning (Monday night in the U.S., which is 12 hours behind). It was the first-ever meeting between the leaders of the U.S. and North Korea.
Trump's decision to leave Singapore 15 hours ahead of schedule raised new doubts about the two nations' ability to make any substantive progress, and it seems they were warranted. The meeting produced several great photos, but few specific commitments on denuclearization. Here's a moment-by-moment recap of the meeting.
9:58 a.m. ET: Rubio Not Sold
9:32 a.m. ET: Trump on Kim: "He Loves His People"
President Trump showered Kim Jong-un with praise just after meeting with the North Korean dictator, calling him "very smart" with a "great personality." But he wasn't done. In an interview with Voice of America's Greta van Susteren hours later, Trump went even further, declaring that Kim "loves his people" and brushing off concerns about his well-documented history of human-rights abuses.
As Jonathan Chait notes, Trump's comments can be interpreted as a kind of praise; the words "rough" and "tough" are "Trumpspeak for the kinds of brutality he considers necessary."
Trump had previously said he spoke about human rights during the meeting with Kim "relatively briefly."
8:52 a.m. ET: Experts Note Similarity to Previous North Korean Promises
An American president sitting down with a North Korean dictator may have been unprecedented. But as many commentators pointed out, the language of the agreement the two leaders released seemed familiar — and not in a hopeful way.
8:24 a.m. ET: South Korea Confused by Trump's War-Games Comment
At his solo press conference this morning, President Trump vowed to discontinue joint military exercises with South Korea, which he called "provocative," as a concession to Kim Jong-un. But he apparently hadn't consulted his allies before making this bold declaration, as evidenced by South Korea's response:
A spokesman for U.S. forces in Korea told the military newspaper Stars and Stripes that the command had received "no updated guidance on execution or cessation of training exercises." The next one is scheduled for August.
6:07 a.m. ET: Trump Says He May Be Wrong About Kim
Trump closed his freewheeling press conference by saying he and Kim will "probably need another summit" to discuss North Korea's plans for denuclearization, though "we're much further along than I would have thought."
He said he really believes Kim is serious about denuclearization, but acknowledged he may be mistaken. He said he "may stand before you in six months and say, 'Hey, I was wrong,'" adding, "I don't know that I'll ever admit that."
5:58 a.m. ET: U.S. Will Suspend Military Exercises With South Korea
At a solo press conference, President Trump revealed a big concession to Kim that wasn't included in the document the two leaders signed: the U.S. will discontinue its joint military exercises with South Korea, which have long riled the North.
When questioned on his repeated praise for Kim, and failure to address North Korean human-rights abuses that led to the death of U.S. college student Otto Warmbier and many others, Trump defended his remarks, saying Kim's rise to power shows he's "very talented." He also said "Otto did not die in vain," claiming his death is what sparked the summit.
2:37 a.m. ET: What Trump and Kim Committed To
Though both leaders have departed, the text of the statement they signed still hasn't been released. Journalists resorted to zooming in on photos of the text:
2:16 a.m. ET: This Is Just the Beginning, According to Trump
2:12 a.m. ET: Trump Heaps Praise on Kim
When asked what surprised him most about Kim, Trump answered, "Great personality and very smart. Good combination." He added, "I learned he's a very talented man. I also learned that he loves his country very much."
1:51 a.m. ET: Trump and Kim's Signing
Trump called the document "very comprehensive" and "historic," but its text still hasn't been released.
1:31 a.m. ET: Trump and Kim to Pledge to Keep Up Momentum
A U.S. official told CNN that Trump and Kim will only be agreeing that the talks made progress and they should keep the diplomacy going. So there won't be any surprise announcement on denuclearization, but there will be commemorative Trump pens:
1:20 a.m. ET: Trump Shows Off His Ride
Trump took Kim over to the Beast and let him take a look inside.
1:18 a.m. ET: Trump Teases Signing
During a post-lunch walk, President Trump said: "We had a really fantastic meeting. A lot of progress. Really very positive. I think better than anybody could have expected … Top of the line. Really good."
Then he said he and Kim are going to a signing, but ignored questions about what that meant.
12:04 a.m. ET: Trump Jokes With Photographers
Before sitting down for lunch, Trump quipped to photographers, "Very nice, getting a good picture everybody so we look nice and handsome and thin?" Kim did not look amused, but it's possible he was confused. According to the pool report, he smiled when he sat down.
11:30 p.m. ET: Trump and Kim's Lunch
About two hours into the summit, Trump and Kim are chatting during their "working lunch." Here's the menu:
10:20 p.m ET: Solving "The Big Dilemma"
During the expanded meeting, Trump reiterated that it's been an "honor" to meet with Kim, said "we'll solve the big problem, the big dilemma, that until this point has been unable to be resolved," and shook Kim's hand again.
9:59 p.m. ET: Trump Pronounces Kim Relationship "Excellent"
After meeting with Kim privately for about half an hour, Trump declared that they have an "excellent relationship."
Now they're sitting down with their respective advisers. John Bolton, who angered the North Koreans by talking about the "Libya model" for denuclearization, is at the table.
9:51 p.m. ET: Trump and Kim Talk Privately
The two leaders have been talking behind closed doors for about half an hour. Afterward, they're set to hold a bilateral meeting with their advisers.
9:43 p.m. ET: Officials Meet
The U.S. delegation — which includes White House chief of staff John Kelly, National Security Adviser John Bolton, and Secretary of State Mike Pompeo — met with their North Korean counterparts as Trump and Kim talked. The two teams were reportedly scrambling on Monday to come up with a post-summit statement that both leaders could agree to.
9:31 p.m. ET: Meanwhile, in Dennis Rodman News
Kim's old pal Dennis Rodman, who is also in Singapore, spoke to CNN sporting a MAGA hat and a potcoin.com shirt. He got emotional when describing the reaction to his first meeting with Kim. He said the president's "secretary" (meaning White House press secretary Sarah Huckabee Sanders) reached out to him today and said, "Donald Trump is so proud of you."
9:17 p.m. ET: Trump and Kim Shake Hands Again
9:13 p.m. ET: The First Remarks Between Trump and Kim
Trump predicted that he and Kim will have a "terrific relationship," and said it's his "honor" to sit down with the North Korean dictator.
Kim told reporters, via a translator, "It was not an easy path here. There's a history of holding onto our ankles," meaning someone was acting as dead weight, "and it appeared there were times that there were unfortunate practices where they were trying to block our eyes and our ears, but we've overcome everything and come to this place."
9:05 p.m. ET: The Trump-Kim Handshake
The summit has officially begun, with Trump and Kim shaking hands and posing for photographs.
Amateur body-language analysts noted that Trump is being more physical than Kim.
9:00 p.m. ET: Trump and Kim Arrive
The two leaders are at the site, with Kim arriving at 8:55 p.m., and Trump showing up five minutes later.
8:41 p.m. ET: Trump Adviser Larry Kudlow Suffers Heart Attack
While headed to the Kim summit, Trump broke the news that Larry Kudlow, the director of the National Economic Council, has suffered a heart attack. The 70-year-old, who was not on the North Korea trip, was active in Trump's feud with Canadian prime minister Justin Trudeau over the weekend.
8:13 p.m. ET: Trump Heads to Meeting With Kim
Various administration Twitter feeds posted footage of Trump departing his hotel and heading to the summit with Kim on Singapore's Sentosa Island. The two leaders are expected to meet at 9 a.m. local time on Tuesday, or 9 p.m. Monday ET.