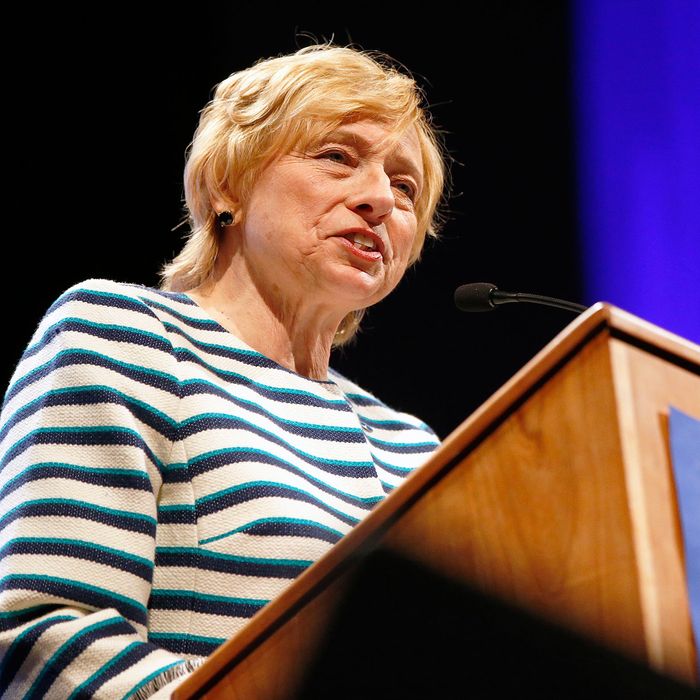 Maine attorney general Janet Mills had to go through four rounds of redistribution of votes to win the Democratic gubernatorial nomination under the state's "ranked-choice" system.
Photo: Ben McCanna/Portland Press Herald via Getty Images
Maine's experiment in "ranked-choice" voting reached an important juncture as the Democratic nominees for governor and a competitive congressional race were announced eight days after the June 15 primary.
In both cases, the first-place finisher on primary night won after votes from the lowest-ranked candidates were systematically redistributed according to secondary preferences until someone reached a majority. In Maine's 2nd district congressional race, with only three candidates, that was pretty simple, as Roll Call explains:
More than a week after voters went to the polls, the Maine secretary of state on Wednesday night declared state House Assistant Majority Leader Jared Golden the winner of the Democratic nomination in the 2nd District.




Golden finished first in last week's three-way primary with 47 percent of the vote …. Conservationist Lucas St. Clair was second with 39 percent ….




With no one getting a majority, the third-place finisher, Islesboro bookstore owner Craig Olson, was eliminated and his votes were distributed to his supporters' second choices. Golden then finished ahead of St. Clair, 54 percent to 46 percent.
An Afghanistan-Iraq veteran who was the favorite of most national and local party stalwarts, Golden will now face incumbent Republican representative Bruce Poliquin in a key competitive race. Trump carried Maine's 2nd district in 2016.
In the gubernatorial contest, Attorney General Janet Mills had to go through four rounds of ranked-choice redistributions to snag the nomination, as the Bangor Daily News reports:
While Republicans picked businessman Shawn Moody for governor in a landslide on Election Day, Democrats had to wait for Mills of Farmington to be declared the winner over Cote of Sanford, lobbyist Betsy Sweet of Hallowell, former House Speaker Mark Eves of North Berwick and three others.




Mills won in a fourth and final round of ranked-choice voting with 54 percent of votes to Cote's 46 percent after the five other candidates were eliminated. 
Maine voters adopted ranked-choice (also known as "instant runoff") voting in a 2017 ballot initiative, and re-endorsed its use last week in a "people's veto" referendum that overruled a bill by the legislature killing the system. Thanks to a court ruling based on an obscure provision of the state constitution, however, it will only be used in federal races in November. That means the very precedent that gave momentum to ranked-choice voting in Maine — the election and reelection of wild-man conservative governor Paul LePage by a plurality — could again come into play in November with two independents already certified for the gubernatorial ballot. LePage is term-limited, but GOP nominee Moody has been campaigning as his political heir. It will be another scorcher of a general election in Maine.