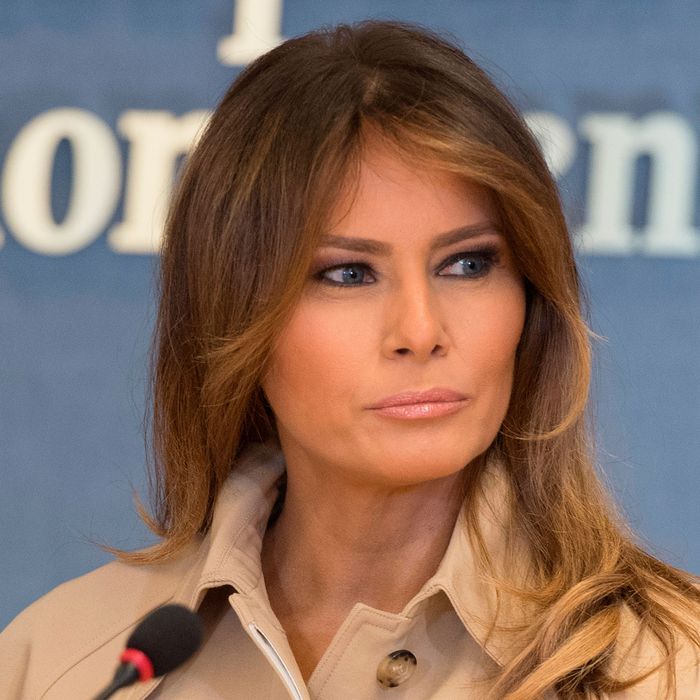 It's a shame about those kids, but…
Photo: JIM WATSON/AFP/Getty Images
Amid widespread, increasingly loud outrage over the Trump administration's policy of separating children from their parents at the U.S.-Mexico border, President Trump has deployed his time-tested strategies of bald-faced lying and passing the buck. Trump has claimed repeatedly that while it pains him to watch children wrenched from their mothers, it's only Democratic intransigence that prevents him from ending a policy he personally put into motion, and could halt at any time.
On Sunday, First Lady Melania Trump put out a mealy mouthed statement that echoed her husband, calling for congressional action where none is necessary.
During an appearance on Meet the Press earlier in the day, White House adviser Kellyanne Conway applied the same tactic. "As a mother, as a Catholic, as somebody who has a conscience … I will tell you that nobody likes this policy," she said, making it sound like the White House didn't have a choice on the matter.
The reality is that, at the urging of anti-immigration diehard Stephen Miller, Trump put into place a system that his predecessors had rejected as inhumane. His clear-eyed strategy is to use the separated children as pawns to extract concessions from Democrats on an immigration package that would include money for Trump's border wall and cuts to legal immigration, among other measures.
Conway said that an unnamed aide who had said as much to the Washington Post was sorely mistaken.
"I want that person to say it to my face, I really do," she said. "I'll meet them at the White House today because I think that is a disgrace."
But Conway then pivoted to blaming both sides for the crisis.
"If the Democrats are serious, and if a lot of Republicans are serious, they'll come together," she said. "They won't just talk about just this week, just the Dreamers, or just the wall, or just catch and release. It's all of the above."
Democrats have introduced legislation to force Trump's hand. A bill authored by Senator Dianne Feinstein has attracted near universal support among the caucus, with several red-state Democrats committing to it on Sunday; only West Virginia's Joe Manchin remains on the fence.
No Republicans have expressed their support for the bill. Maine's Susan Collins, the most moderate member of the Republican caucus, said on Meet the Press that she did not support the family separation policy, but also would not support the Democratic legislation because it was too broad — though it has little chance of becoming law.
Collins and Republican Senator Jeff Flake sent a letter to the Department of Homeland Security asking questions about the family separation policy, but it focused only on those who are seeking asylum.
Meanwhile, disturbing accounts of the trauma wrought by the family-separation policy keep flooding in. Among other stories on Sunday, the New York Times published a heartrending account of a Guatemalan woman who was deported before she could be reunited with her son and the AP toured a facility full in which a 4-year-old was taking care of other children.
Nearly 2,000 children had been separated from their parents under the policy as of the end of May, and the Border Patrol chief for the busiest part of the Southwest border has warned that the number of families affected could soon double.
Early Sunday evening, Department of Homeland Security Kirstjen Nielsen, who has boldly threatened to quit the Trump administration but not followed through, attempted a different strategy from her superiors: She pretended the policy she (supposedly) dislikes so much doesn't exist at all.
A brazen gambit, but given everything that's come before in this administration, it just might work.