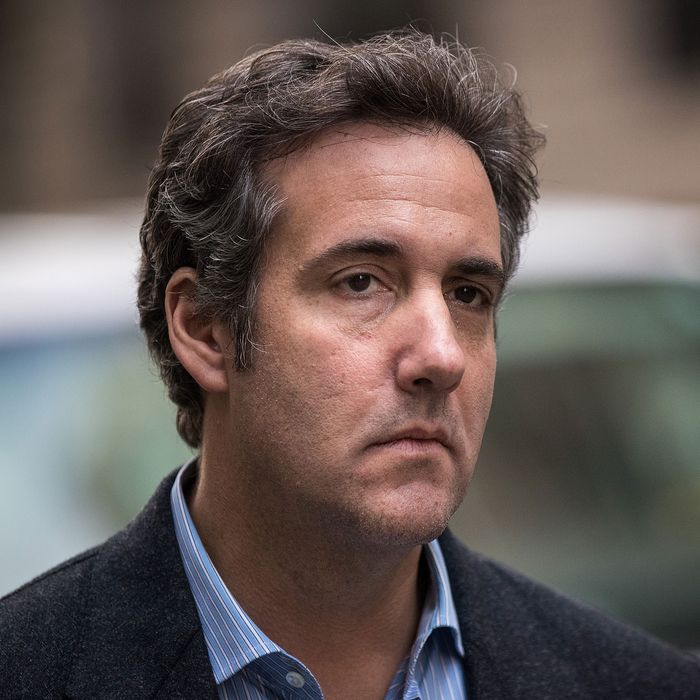 Snitches get generous plea bargains.
Photo: Drew Angerer/Getty Images
Donald Trump's longtime "fixer" — a man who helped broker multiple real-estate deals between the Trump Organization and alleged money-launderers overseas — has indicated to friends and family that he is prepared to cooperate with a federal investigation into his former boss, according to a new report from CNN.
Michael Cohen still hasn't met with prosecutors. For the moment, the deal he's focused on cutting is one with a new legal team — the president's former attorney is looking for lawyers with experience working with the U.S. Attorney's office in Manhattan and a rapport with judges in the Southern District of New York.
But Cohen (reportedly) doesn't like the way Trump has been treating him, since the president has downplayed the significance of their relationship in interviews. Meanwhile, his personal legal liabilities are mounting. Federal prosecutors recently began probing the legality of Cohen's secret lobbying activities. And it's quite likely that the full scope of investigators' inquiries has not yet become public. For the past decade, Cohen has been intimately involved in Trump's financial affairs. Many people suspect that not all of the president's dealings with foreign creditors were aboveboard — including, by all appearances, the president himself. Trump has repeatedly warned the special counsel not to look too closely at his company's books, and reportedly considered firing Mueller last December, after hearing that the FBI was trying to obtain "information about his business dealings with Deutsche Bank" — a bank that happens to have recently paid a $425 million fine for helping wealthy Russians launder their ill-gotten money.
Regardless, Cohen has told friends that he's been under tremendous "pressure" since the FBI raided his home, office, and hotel room in April; that he is angry with Trump; and that he is willing to speak with investigators if that would alleviate the stress that he and his family are under.
In other news, Trump's former campaign manager was sent to jail Friday for a crime he allegedly committed while awaiting trial for a long list of other crimes — and the president reiterated his call for the special counsel's investigation to be ended as soon as possible, as it is clearly a baseless "witch hunt."