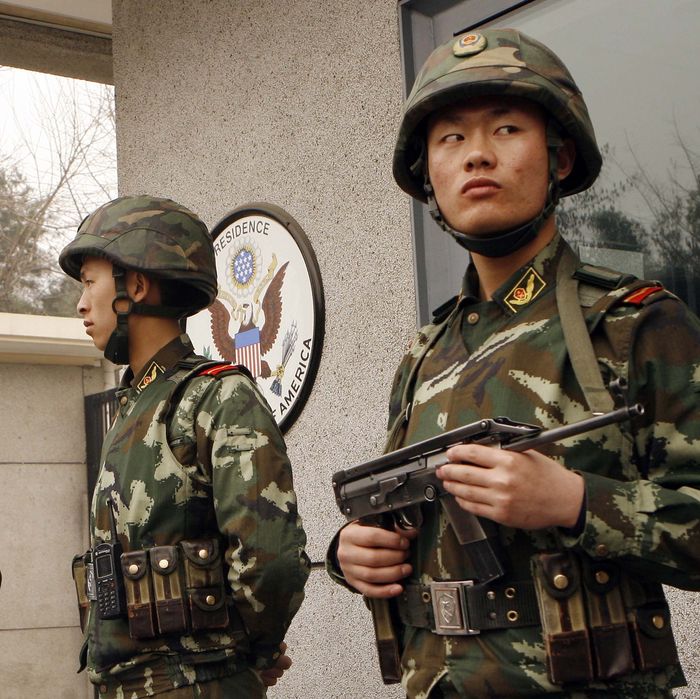 Chinese police stand guard outside the U.S. embassy in Beijing.
Photo: PETER PARKS/AFP/Getty Images
The mystery illness that sickened 24 U.S. diplomats and their family members in Cuba has broadened, with the State Department evacuating several Americans from China over fears of a similar incident there.
Last month the State Department warned Americans visiting China to relocate if they heard "unusual acute auditory or sensory phenomena accompanied by unusual sounds or piercing noises" after one of its employees in Guangzhou was found to have suffered a mild traumatic brain injury.
A medical team was dispatched to investigate the incident, and on Wednesday State Department spokeswoman Heather Nauert said "a number" of people connected to the consulate in Guangzhou have been evacuated to the U.S. for further evaluation.
"U.S. medical professionals will continue to conduct full evaluations to determine the cause of the reported symptoms and whether the findings are consistent with those noted in previously affected government personnel or possibly completely unrelated," Nauert said.
The State Department did not provide names or exact numbers, but Mark Lenzi, a Foreign Service officer, told the Washington Post that he and his family are among those being evacuated. Lenzi said they began hearing odd sounds in April 2017, which he compared to rolling marbles with static. Then he, his wife, and their 3-year-old son began experiencing excruciating headaches, sleeplessness, and nausea. The employee evacuated last month was Lenzi's next-door neighbor.
Many Americans who heard odd noises in Cuba were diagnosed with minor brain trauma, like concussions. The State Department said it suspects the noises were part of a targeted attack, and accused Cuba of not doing enough to protect American diplomats. The U.S. diplomatic staff in Havana was reduced, and 15 Cuban diplomats were expelled from the U.S.
The new attacks have raised concerns that China or Russia might be to blame, which may further complicate relations with both countries.
In a statement issued Tuesday, Secretary of State Mike Pompeo said he's created a health care task force to look into "the unexplained health incidents that have affected a number of U.S. government personnel and family members stationed overseas." One U.S. official told the New York Times that there are reports of isolated incidents at other U.S. embassies and consulates, but so far no pattern has emerged.