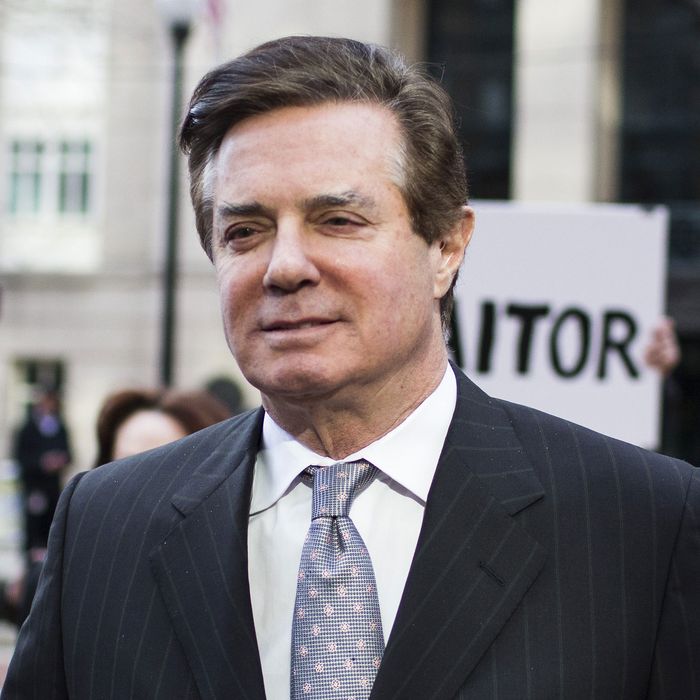 Paul Manafort.
Photo: Zach Gibson/Bloomberg via Getty Images
Special Counsel Robert Mueller once again filed new charges against Paul Manafort Friday. This time, Donald Trump's former campaign chairman is accused of obstruction of justice and conspiracy to obstruct justice for his attempts to tamper with witnesses.
Russian political operative Konstantin Kilimnik was also indicted. The longtime Manafort associate once worked for the American's consulting firm in Kiev and has been described as "Manafort's Manafort."
The new charges come days after Mueller's team detailed the accusations against Manafort in court documents. Prosecutors said that while Manafort was on house arrest following a slew of charges filed against him in February, he got right to work breaking the law again.
The new charges are related to the accusation that Manafort hired a firm of former European officials to illegally lobby in the U.S. on issues related to Ukraine. Manafort maintains that the firm's work was confined to the European Union, but his actions between February and April belie that claim. Prosecutors says Manafort "repeatedly contacted" two people at the firm during that time and encouraged them to say they "never lobbied in the U.S., and the purpose of the program was E.U."
When the witnesses avoided Manafort, he had Kilimnik step in and try to pass along his messages for him. "Basically P wants to give him a quick summary that he says to everybody (which is true) that our friends never lobbied in the U.S., and the purpose of the program was E.U.," a person believed to be Kilimnik wrote in a WhatsApp message to one of the witnesses. "P" was apparently code for Paul.
The witnesses would eventually rat out Manafort and Kilimnik to the FBI. One of them told investigators that he "understood Manafort's outreach to be an effort to 'suborn perjury'" since he knew that part of the firm was in fact trying to influence opinion within the U.S.
Friday's new charges are in addition to the nearly two dozen charges related to money laundering, bank fraud, and foreign lobbying to which Manafort has already pleaded not guilty.