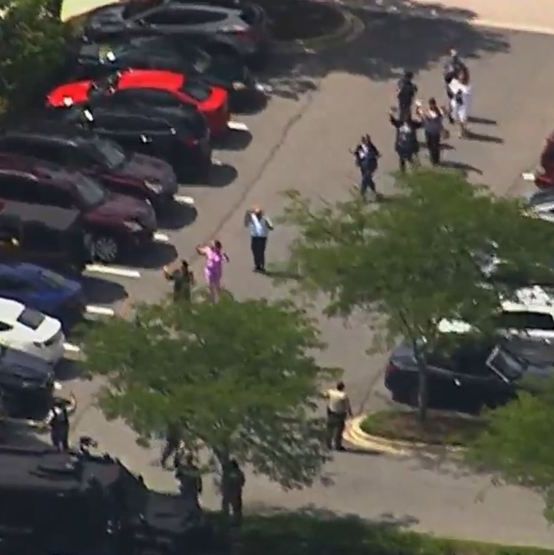 The scene in Annapolis.
Photo: ABC 7 News - WJLA
A gunman shot and killed five people, and injured two others, in the newsroom of the Capital Gazette newspaper in Annapolis, Maryland, on Thursday. Police said it was a targeted attack, and they took one suspect into custody at the scene: 38-year-old Jarrod Ramos of Maryland.
Ramos lost a defamation case against the paper in 2015 over a column the paper published about his guilty plea to criminal harassment of a woman over social media. According to court records filed Friday, Ramos has been charged with five counts of first-degree murder.
Phil Davis, one of the paper's crime reporters, tweeted from inside the newsroom, "Gunman shot through the glass door to the office and opened fire on multiple employees. Can't say much more and don't want to declare anyone dead, but it's bad."
In a subsequent interview with the Baltimore Sun, which owns the Annapolis paper, Davis likened the scene at this office to a "war zone."
"I'm a police reporter. I write about this stuff — not necessarily to this extent, but shootings and death — all the time," Davis told the Sun. "But as much as I'm going to try to articulate how traumatizing it is to be hiding under your desk, you don't know until you're there and you feel helpless."
Davis said that the shooter stopped firing while he and several colleagues were still hiding under their desks, and that he did not know why the shooter had stopped firing. Video taken at the scene captured dozens of people fleeing the newspaper's building, hands raised above their heads.
First responders were on the scene within 90 seconds and did not exchange fire with the shooter. They said they found the gunman hiding under a desk in the newsroom. He did not cooperate with investigators, and was carrying smoke grenades that he used during the attack.
Five victims were all Capital Gazette employees: Gerald Fischman, 61, was the editorial page editor; Rob Hiaasen, 59, was an editor and features columnist; John McNamara, 56, was a sports reporter and editor for the local weekly papers; Wendi Winters, 65, was a local news reporter and community columnist; Rebecca Smith, 34, was a sales assistant.
Hiaasen's brother, novelist Carl Hiaasen, wrote a tribute to him on Facebook, saying, "He spent his whole gifted career as a journalist, and he believed profoundly in the craft and mission of serving the public's right to know the news."
The shooting was the deadliest attack on journalists in the U.S. in decades. As a precaution, the NYPD dispatched officers to the offices of news organizations around the city on Thursday afternoon.
Maryland governor Larry Hogan tweeted Thursday afternoon that he was "absolutely devastated to learn of this tragedy in Annapolis."
President Trump tweeted:
White House Press Secretary Sarah Huckabee Sanders added later: