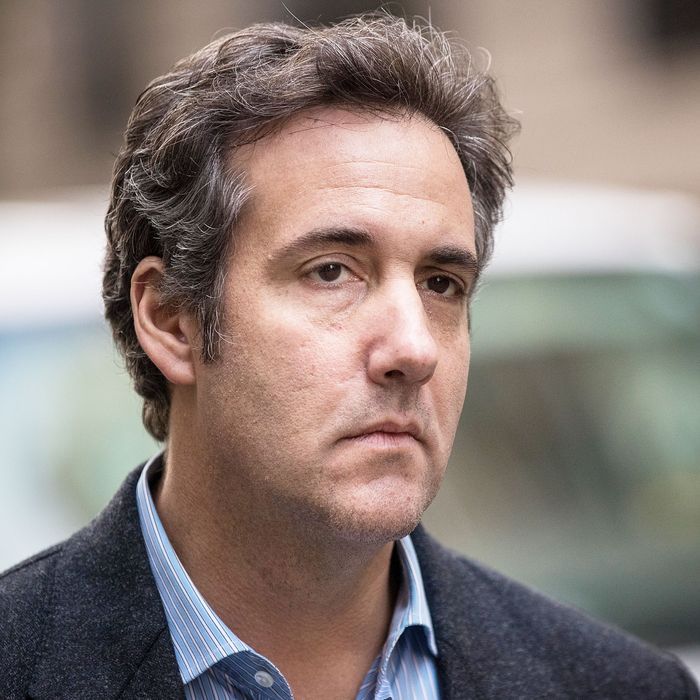 Part-time tabloid editor Michael Cohen.
Photo: Drew Angerer/Getty Images
This will undoubtedly come as a surprise, but Michael Cohen, who just valiantly resigned from the Republican National Committee's finance committee over migrant-family separations, might have engaged in some shady dealings while representing Donald Trump during his presidential campaign.
Three sources tell the Washington Post that during the presidential campaign and after Trump was elected, National Enquirer executives would send Cohen digital copies of articles related to Trump for his approval prior to publication. Since Trump has a close relationship with David Pecker, chief executive of the magazine's parent company American Media Inc., the stories tended to be quite positive to start with, but one person said Cohen would sometimes request changes, like a more flattering cover photo or headline change.
The sources said Trump also had access to some pieces about his opponents before publication, like the infamous September 2015 cover story that claimed Hillary Clinton was ill and had "SIX MONTHS TO LIVE!" They also claimed that Trump associates — Cohen, communications adviser Hope Hicks, or sometimes the candidate himself — would call Pecker to suggest stories. They said one example is the Enquirer report that alleged Dr. Ben Carson botched operations.
"Since Trump's become president and even before, [Pecker] openly just has been willing to turn the magazine and the cover over to the Trump machine," said one of the sources.
Dylan Howard, the company's chief content officer, said it is "completely false" that Trump and Cohen "were told in advance, and copies were shared in advance, and that they had some sort of sway over who the magazine attacked on any given week." (For what it's worth, "attack" is not a word most journalists use to describe their coverage.)
If content was shared with the Trump camp, Howard said "it was not at the behest of me or David. And quite frankly, if they were shared, I'm a little concerned because people are acting as rogues and renegades."
There's more at stake than respect for the Enquirer's journalistic process. Earlier this week The Wall Street Journal reported that federal prosecutors in Manhattan have subpoenaed AMI for records related to its $150,000 payment to former Playboy model Karen McDougal for the rights to her story about an alleged affair with Trump. Claims that the company bought the story just to kill it for Trump are part of a larger criminal investigation into Cohen.
As the Journal explained, there could be legal consequences for the Cohen and AMI:
Corporations are barred from making contributions to candidates under federal election law. If investigators find evidence that Mr. Cohen pressed American Media to buy Ms. McDougal's story to protect Mr. Trump's campaign, prosecutors could bring charges against Mr. Cohen, the company or both, legal experts said.

In such a case, prosecutors would have to prove Mr. Cohen coordinated with American Media to provide Mr. Trump something of value for the purpose of influencing the election, said Douglas Spencer, a professor of law and public policy at the University of Connecticut. Proving coordination would likely be the most difficult prong of such a case, he said.
Both Cohen and the company have denied any wrongdoing. However, early Trump campaign adviser Sam Nunberg seemed to back up claims that there was coordination between the Trump campaign and the Enquirer. He told the Post that the magazine was Cohen's "account" and the relationship as seen as "a big commodity" in Trump World.
Nunberg compared the tabloid to a campaign mailer, saying it "was such a help to Trump during the primary and even the general."
"If you get something on the cover of the National Enquirer," Nunberg added, "it's a publication that people pay attention to in the grocery store. You are conveying a message, and it's free media."