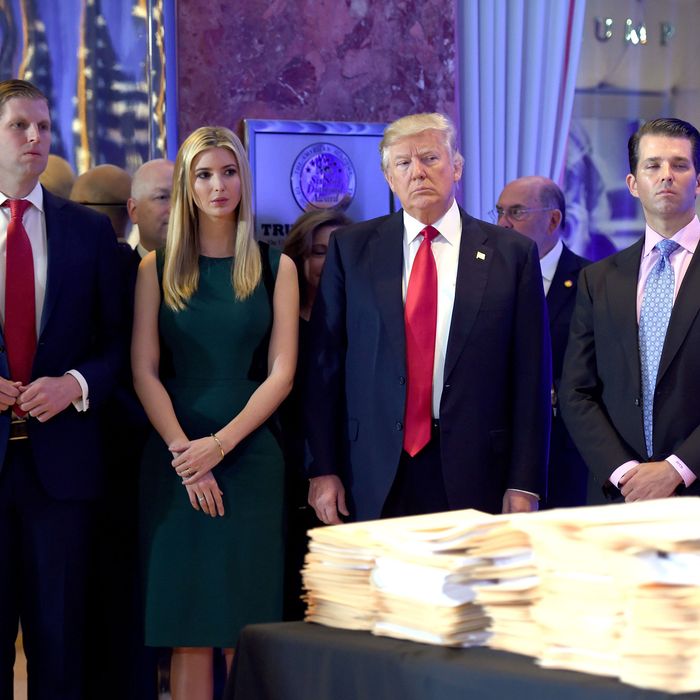 The Trumps.
Photo: Timothy A. Clary/AFP/Getty Images
New York State attorney general Barbara Underwood has only been on the job for a couple of weeks, but on Thursday she dropped a bombshell, suing Donald Trump, his three oldest children, and the Trump Foundation for "persistently illegal conduct."
Underwood alleges misuse of foundation funds, a pattern of self-dealing, and illegal coordination between the foundation and Trump's 2016 presidential campaign. In the suit, Underwood asks a judge to dissolve the foundation and force Trump to pay $2.8 million in restitution. She also wants him barred from serving as the head of a nonprofit for ten years. Underwood is asking the judge to give the same penalty, but for only one year, to Donald Jr., Ivanka, and Eric Trump, who are all board members of the foundation.
"As our investigation reveals, the Trump Foundation was little more than a checkbook for payments from Mr. Trump or his businesses to nonprofits, regardless of their purpose or legality," Underwood said in a statement. "This is not how private foundations should function and my office intends to hold the Foundation and its directors accountable for its misuse of charitable assets."
Trump tweeted his reaction to the lawsuit Thursday, blaming disgraced former attorney general Eric Schneiderman and Democrats.
The lawsuit is full of examples of how Trump allegedly misused foundation funds. Among them are the $5,000 it paid to advertise Trump Hotels, the $10,000 it paid for a Trump portrait found hanging in one of his golf resorts, and the $258,000 it paid to settle lawsuits against Trump and his businesses.
Underwood has also taken issue with the foundation's alignment with Trump's presidential campaign. This became an issue after he skipped a Fox News debate in January of 2016 and instead hosted a charity event to raise money for veterans, but also for him to rip his opponents.
That event raised $2.8 million for the Trump Foundation to dole out to charity, but quickly "the Foundation ceded control over the charitable funds it raised to senior Trump Campaign staff," the lawsuit says. Included in the suit are emails from Corey Lewandowski, Trump's first campaign manager, coordinating the donations with a foundation staffer. His goal was to dole them out in such a way as to benefit the campaign. "Is there any way we can make some disbursements this week while in Iowa?" Lewandowski wrote the staffer in the days leading up to the Iowa caucuses.